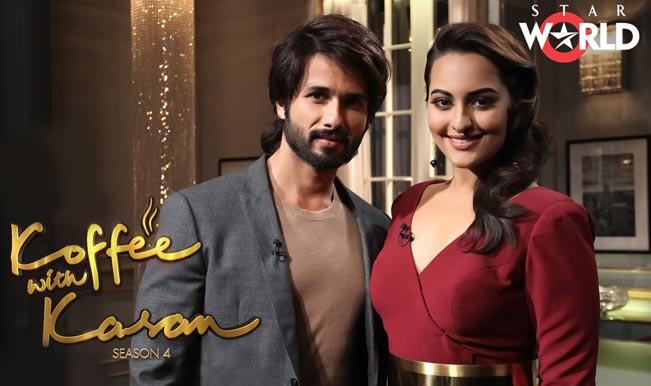 After Emraan Hashmi and Mahesh Bhatt's candid interview on Koffee with Karan Season 4 (KWK), we were wondering if the hot pairing of Shahid Kapoor and Sonakshi Sinha will be as candid or full pakau like Akshay Kumar.
Thankfully, candid or not, they were far from boring! It was a fun show and the R…Rajkumar couple was relaxed and didn't take things too seriously. Except on a couple of occasions, when we felt things were going touchy.
Touchy moment 1:
One occasion was when Sonakshi couldn't believe Shahid's answer to Karan Johar's question, as to what he couldn't live without – acting or sex. Shahid closed his eyes, thought a bit, and replied 'diplomatically': "Acting". Sona reacted in a way that she knew Sasha's choice was wrong and he turned defensive. To which she said she thought he would choose passion. The matter was resolved there.
Touchy moment 2:
Another occasion, and more serious we feel, was when at the end of the show, Shahid heaped praises on his co-star Sonakshi. He especially mentioned that she should do more movies like Lootera while emphasising that he enjoyed all her other films (read masala fare) too.
And, as a parting shot, he said Sonakshi can be more than a housewife. Now this was a taunt directed towards Kareena Kapoor Khan, Shahid's ex-girlfriend now married to Saif Ali Khan. Kareena had declared on KWK that Sonakshi could've been a 'lovely housewife' if not an actor. And Shahid surprisingly seems to have got touchier about the casual remark than Sona herself! And he hit back in style. We wonder why. Is there is something more to Shahid and Sona's relationship than friendship? Are they dating?
By the way, Salman Khan on his famous KWK episode had said that all Kareena would be able to do if not acting is be a housewife. Maybe Kareena was hurt with Salman's comment and projected another heroine in the same role! Who knows?
Watch Rapid Fire round: Shahid Kapoor and Sonakshi Sinha on Koffee with Karan 4
Photo: Star World