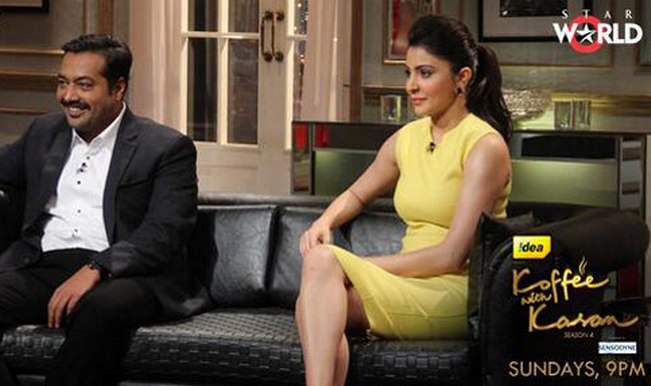 Anushka Sharma is looking different these days. Fuller, not in a preggers kind of way, but in a pouty way! Check her out in the promo of her Koffee with Karan 4 episode, and you'll know what we mean.
In mid-2013, there was news of the happy-go-lucky actor not being happy with the results of her lip job. And now it seems to correct that, she has had a few more shots to her lips, only to have gone worse.
We don't know which clinic she's visiting or beauty treatment she is taking, but maybe Anushka needs to take tips from the likes of Katrina Kaif, Nargis Fakhri and Shilpa Shetty – Bollywood beauties who have luscious lips.
Seriously, with that kind of a mouth, Anushka looks ill! As they say, her pout looks like that of a trout. On top of that, her face also looks like its bursting. Gone is the slim-faced Anushka. She looks like an aunty now!
We wonder why the actress felt the need to suddenly go 'poutilicious'. Isn't she getting any movie offers anymore? Does she want to look older and fatter? What is the scene? Or is it that Anurag Kashyap has asked her to have a bigger pout for Ranbir Kapoor in his film Bombay Velvet?
Or better still, maybe Anu's new boyfriend, cricketer Virat Kohli likes them that way! What say?
Watch promo: Anushka Sharma and Anurag Kashyap on Koffee with Karan Season 4
Photo: Star World