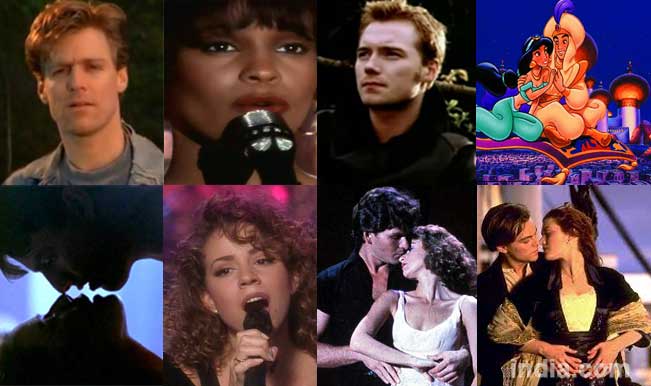 Getting all lovey dovey for Valentine's Day? Here's a playlist ready for you, of the all-time fave angrezi love songs that we desis simply love to listen to – from the numbers of Bryan Adams to Air Supply to Richard Marx, Boyzone, The Beatles, Mariah Carey and Celine Dion – they feature in the list. They are all great, with no particular order to the way we've listed them in this two-part Valentine's Day special article. We've taken classic songs and the ones from the 1980s and '90s, leaving the 2000s 'cos we feel they still have a long way to go to be in the all-time list.
So, what are you waiting for? Plan your very own candle-light dinner at home or your wherever you want to, get all mushy and watch these romantic songs with your beloved!
1.       Everything I Do (I Do It For You) – Bryan Adams
The song that captured the hearts of everyone in the 1990s, this Bryan Adams number was used in the Kevin Costner movie Robin Hood: Prince of Thieves. It was from his album Waking Up the Neighbours.
2.      Nothing's Gonna Change My Love For You – George Benson
Yes, this is the original version (1984) of the most loved romantic song in India – way better than the Glenn Medeiros version most people are aware of. Boy band Westlife also did a cover, which is not bad. But listen to George Benson's original and you'll be hooked on it!
3.      My Heart Will Go On – Celine Dion
A blockbuster song from a blockbuster Hollywood film – Titanic – Celine Dion's song My Heart Will Go On stirs something inside your heart, doesn't it.
4.     You're Still the One I Run To – Shania Twain
One of Shania's bestest. Especially an important song for the couples who have overcome great obstacles to be together.
5.       Time of My Life – Dirty Dancing (Bill Medley and Jennifer Warnes)
Patrick Swayze and Jennifer Grey in Dirty Dancing! They shake a leg to this No.1 Billboard Hot 100 dance love song, showing their rebellious love for each other. A treat. Time of My Life won both the Academy Award and the Golden Globe for Best Original Song as well as a Grammy Award for Best Pop Performance by a Duo or Group with Vocals.
6.       I'll Be There – Mariah Carey
A generation of music lovers fell in love with Mariah Carey thanks to this song. By far the best of the multiple Grammy Award-winning artist.
7.       Take My Breath Away – Top Gun (Berlin)
Ooh yeah. The song from the Tom Cruise movie Top Gun. In the all-time list of everyone. It truly takes your breath away!
8.        Every Breath You Take – The Police
No matter how many times you listen to this song, you never get bored! It has been tested with many covers and versions, but it's still the best.
9.       I Will Always Love You – Whitney Houston (Bodyguard) and Dolly Parton (original)
Dolly Parton's original was good, but Whitney Houston simply blew us away with her rendition for the movie Bodyguard in which she also starred as the lead with Kevin Costner.
10.   A Whole New World – Peabo Bryson & Regina Belle (Aladdin)
Oh so cute! That's what you will say watching this version of the song from Aladdin (1992). But simply listening to it with your newfound sweetheart will make you go mushy! This is better than the other version.
11.   Have You Ever Really Loved a Woman – Bryan Adams
What can we say about this song that's not been said! Slow, smooth, it takes you in – perfect for a close dance. The guitars are awesome too, and so is the video by Anton Corbijn. Wonder if it's this number that made Bryan want to take up an alternate career of photography! And of course, the lyrics are a dream for a woman. Sigh!
12.   And I Love Her – The Beatles
While we're on the guitar, let's go back to this Beatles number. And I Love Her is a short and sweet song, quickly telling it like it is. One of their cutest songs!
13.  When You Say Nothing at All – Ronan Keating (Notting Hill)

It's Ronan Keating singing. And it's from the movie Notting Hill – Hugh Grant and Julia Roberts. Need we say more?
14.   Give in To Me – Michael Jackson (Dangerous)
You probably love his The Way You Make Me Feel, You're Not Alone or Remember the Time, but for this list, we simply love Give in to Me from the album Dangerous.
15.  Right Here Waiting – Richard Marx
More of a break-up song, but can be sung to your lover even when you're together. It's from his album Repeat Offender. We feel Richard Marx is sure a repeat offender of stealing our hearts with this song!
16.   Words – Boyzone (cover) and Bee Gees (original)
We love the original Bee Gees' version, but of course, we love the Boyzone one more – belonging to a younger generation and also with a better video. Here's a rare video of both bands singing it together live!
17.   Making Love Out Of Nothing At All – Air Supply
Don't we love this band – and their consistent musical genius!
18.   You and I – Scorpions
'I lose control because of you, babe' – we can hear you humming already. The Scorpions with their best romantic number.
Watch: Valentine's Day: Most romantic English songs of all time – Part II.