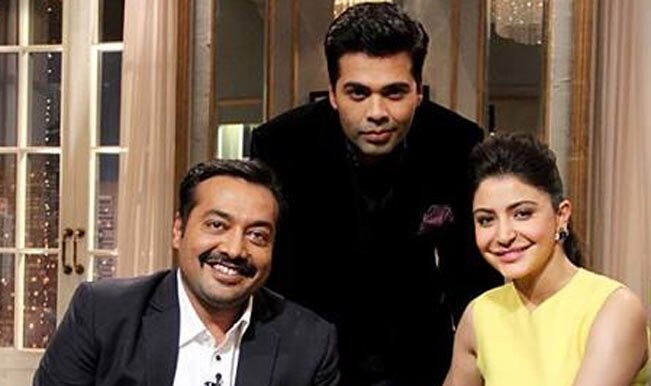 After calling Karan Johar's talk show Koffee with Karan a 'mutual masturbation society' in the past, noted writer-director-producer Anurag Kashyap made his debut on Koffee with Karan. But that was bound to happen what with Johar and Kashyap running a mutual admiration club after their bitter ugly fight in the virtual world.
Anushka Sharma,

more in news for her lip job

 and 'friendship' with cricketer Virat Kohli, shared the couch with her Bombay Velvet director. Thankfully, the guests and the host spoke little about the movie. Just in case you did not know – KJo is making his big screen debut as villain in the film.
For a major part of the show Anushka was at the receiving end with Karan taking up her 'friendship' with Kohli or Ranvir Singh. The closet she came to say something on the topic was when she mentioned Kohli as her favourite cricketer. But she did announce that she is single.
Anurag did come to her rescue on her friendship with the actors. He also discussed in detail the awkwardness in

his relationship with Huma Qureshi

after reports of their alleged affair after separation from Kalki.
Barring the Virat Kohli/Ranvir Singh issue that spiced up the proceedings, the proceedings remained little thanda.
Anurag Kashyap surely knows how to please: When asked to rate male and female actors on their acting ability Kashyap voted for Ranbir Kapoor and Anushka Sharma – lead pair of his upcoming film. Good he was not asked to name the best director!
The virginity issue, which now seems like theme of Season, found its way in this episode as well.