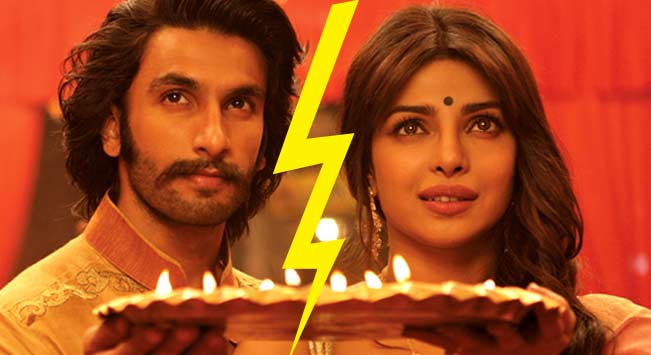 All is not well between Deepika Padukone's rumoured boyfriend Ranveer Singh and her best friend Priyanka Chopra. Well with a day remaining for the Ranveer, Priyanka and Arjun Kapoor-starrer Gunday to release, Ranveer's decision of not working again with the Exotic singer comes as a jolt to the fans of both stars. This news is surely going to give director Zoya Akhtar sleepless nights, as these two form the main cast of her yet untitled project.
According to the close friends of the Band Baaja Baaraat actor, the starry and high-headed attitude of Priyanka prompted him to take such a decision. Though he continues to be poker-faced in front of the media and fans, it looks like all hell broke loose when PC snubbed him during one of the promotional events of the movie. 
The Priyanka Chopra-Ranveer Singh rift can be dated long back, much before the two came on board for Yash Raj Films' Gunday along with Arjun Kapoor. Ranveer is very famous or rather infamous for being too friendly and overenthusiastic in the industry, something which did not put him in PeeCee's good books.
Keeping their personal notions aside, they came together for this plum project and it looked like the dusky actress had moved on with her perception of her co-star. Until recently when several articles of their widely discussed crack came on the surface, with the senior actor snubbing him in front of the media. This definitely did not go down well with the fun loving Ranveer.
So, what does their co-star and Ranveer's new BFF Arjun Kapoor have to say on this rumoured fight? Arjun has mostly downplayed all these incidents and said it should not be paid attention to. He believes such stories take the spotlight away from the movie, which according to him is unfair. But we cannot ignore the fact that he himself admitted of playing Piggy Chops' assistant on the sets! It remains a debatable topic if such incidents be taken in a manner of frolic or as public humiliation.
We do not know whether this announcement of Ranveer's decision of not working with his current leading lady is another marketing gimmick on the eve of Gunday's release, or is there some substance to it. Only time will tell…
As for PeeCee, we have only one piece of advice, she should tone down her accent (literally), as her options in terms of the leading actors is narrowing down quickly. Remember the Akshay Kumar, Shahrukh Khan and Salman Khan episodes?
(Disclaimer: There is no such announcement from neither Ranveer Singh nor his friends. We think Ranveer and Priyanka Chopra make a sizzling pair in Gunday. And by any chance he does announce anything of this kind, we are not to be blamed!)