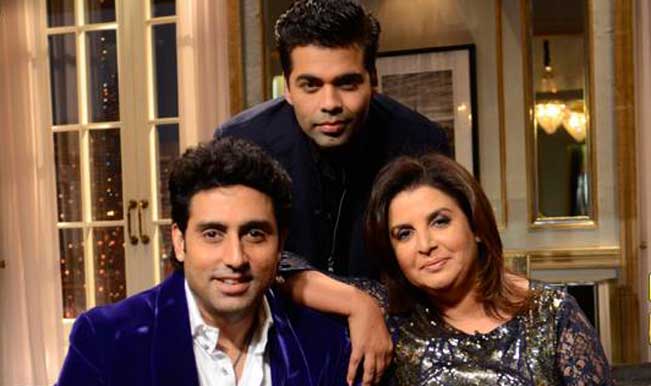 Farah Khan's sex life was under scanner on Koffee with Karan this week. Abhishek Bachchan, the other guest on the show, even observed silence to mourn the missing s-excitement and prayed that the host Karan Johar gets some 'physical activity' in his life.
The bindaas choreographer-director that Farah is was there in her replies to controversial questions – like what will she do if she meets Akshay Kumar or her tummy tuck surgery. But she was on guard when it came to rapid fire and offered no answer when asked if she found Shiney Ahuja hot.
As for junior B – well what is that we dont know about him? That he was appearing for the fifth time on the show makes him a veteran. But he did let the world know why he thinks its manly to have hair on chest and what his mother, Jaya Bachchan, told him about not trusting man without chest hair. Was he referring to his wife Aishwarya Rai's ex-boyfriend Salman Khan?
Abhishek Bachchan did sit on Karan Johar's lap for a brief while and wasn't Karan enjoying every bit of it? Since it seemed like a Shahrukh Khan admiration club Karan skipped the actor/actress ranking question this week. Surprisingly, there was hardly any discussion on actress. They figured only in the rapid fire. Abhishek Bachchan was caught off-guard when Karan asked a question based on Karisma Kapoor's song! He also did identify Vivek Oberoi, another ex of Aishwarya.
Basking in the glory of Dhoom:3 success, Junior B reiterated that the franchise is all about Jai and Ali. The villains will come and go. And just in case the world did not know, the show also marked the debut of Farah Khan's kids. It's Karan Johar's show - sab chalta hai!