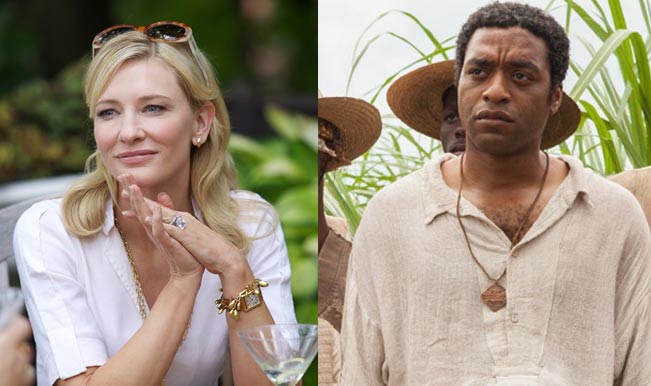 The 2014 British Academy of Film and Television (BAFTA) Awards were held on February 16, 2014 at the Royal Opera House in London, United Kingdom. Steve McQueen's 12 Years a Slave was adjudged the Best Film, while Sandra Bullock's Gravity won the Outstanding British Film award and several other honours, including Best Visual Effects and Best Director.
Chiwetel Ejiofor, leading man of 12 Years a Slave received the Best Actor award at the BAFTAs. Cate Blanchett won Best Actress for Woody Allen's Blue Jasmine. Jennifer Lawrence was Best Supporting Actress for American Hustle and Barkhad Abdi won the Best Supporting Actor for Captain Phillips.
But the highlight of the evening was actor couple Angelina Jolie and Brad Pitt who appeared in matching tuxedos. See gallery of BAFTA Awards 2014 red carpet pictures if you don't believe us!
Here's a list of the major 2014 BAFTA Award winners for films:
Best Film
12 Years a Slave
Outstanding British Film
Gravity
Best Actor
Chiwetel Ejiofor – 12 Years a Slave
Best Actress
Cate Blanchett – Blue Jasmine
Best Supporting Actor
Barkhad Abdi – Captain Phillips
Best Supporting Actress
Jennifer Lawrence – American Hustle
Best Director
Alfonso Cuaron – Gravity
Outstanding Debut by a British Writer, Director or Producer
Kieran Evans – Writer-director – Kelly + Victor
EE Rising Star Award
Will Poulter
Best Music
Gravity
Best Adapted Screenplay
Philomena
Best Original Screenplay
American Hustle
Best Animated Film
Frozen
Best Documentary
The Act of Killing
Best Foreign Film
The Great Beauty
Best Cinematography
Gravity
Best Costume Design
The Great Gatsby
Best Editing
Rush
Best Make-up and Hair
American Hustle
Best Production Design
The Great Gatsby
Best Sound
Gravity
Best Visual Effects
Gravity
Best Short Film
Room 8
Best Short Animation
Sleeping with the Fishes.
Congratulations to all the winners of the BAFTA Awards 2014!
LOOK BACK: BAFTA Awards 2014 nominations