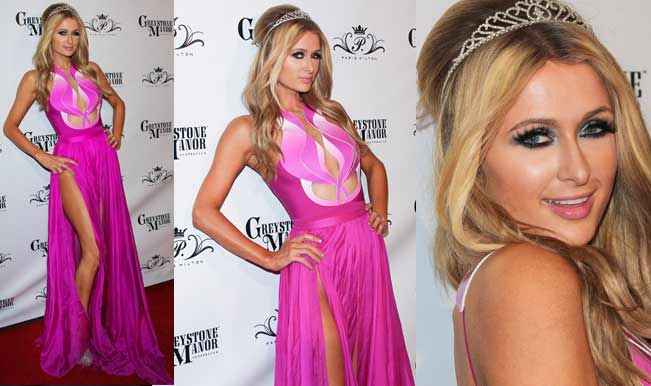 Socialite and TV Personality Paris Hilton attends her birthday party at Greystone Manor Supperclub suffered a wardrobe malfunction or another attention seeking act – at her birthday bash here. Paris Hilton celebrating her birthday two days before, the gorgeous diva planned to go 'commando' as she walked the red carpet and posed amidst the photographers.
Choosing an Alon Livn bright pink gown with thigh high slit, she flaunted more than her toned legs. She had completed the look with a sparkling tiara, glittery heels. Her idea of 'going commando' seemed to backfire with her already flowing gown providing all the peek-a-boo moments to the flashy photographers. (Check Paris Hilton's sexiest appearances in her See-Through-Why-Bother-Dress in Gallery)
Going without underwear is not a new experience for the hotel heiress as she recently posed for the hounding cameras at the Diddy's Pre-Grammy Awards party. She wore Jaimie Alexander sheer black dress which barely covered her essentials. So calling it a wardrobe malfunction would be an understatement for the lady. But it is high time you should start covering your assets.
Watch as Paris Hilton 'oops' moment on birthday party celebration red carpet.