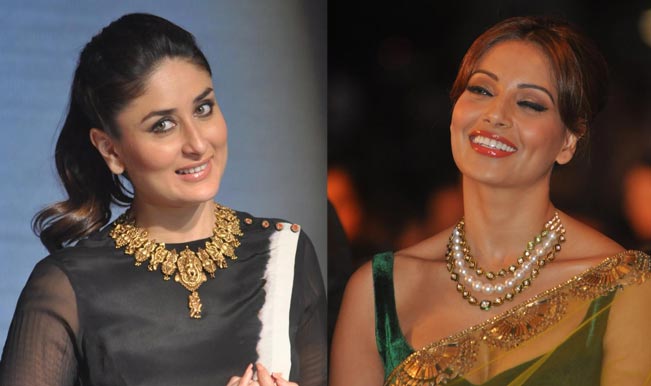 Bipasha Basu seems to be in a happily confused state these days. On the one hand she has finally opened up on her relationship with actor Harman Baweja using Twitter to announce her relationship (instead of shouting from her roof top). And on the other hand she literally 'kissed' and made up with once rival Kareena Kapoor at the IIFA Awards 2014 press meet.
The ladies finally ditched their age-old catfight, as both were seen chatting and exchanging pleasantries with each other. And there were pictures which suggested Bebo and Bips have kissed and started a new friendship.
Kareena and Bipasha's rivalry dates way back to their filming of the 2001 release Ajnabee over sharing a costume designer. They constantly took jibes at each other on Karan Johar's chat show Koffee with Karan as well, when Kareena called Bipasha's then boyfriend John Abraham 'expressionless'. Bipasha retaliated by saying Kareena has 'too many expressions'.
Their fierce battle continued over time, which involved quite a number of individuals including their respective boyfriends at the time – Shahid Kapoor and John Abraham.
Kareena was also said to be upset with Bipasha Basu over her rumoured closeness with her now hubby Saif Ali Khan during the filming of Race. But now it looks like everyone is in a happy space, as Saif along with Kareena chatted quite a lot with Bipasha at the IIFA Awards 2014 press conference.
With no past relationship existing for Bipasha and Kareena, it is better they are friends we feel.
As far as Bipasha's personal life is concerned, she claims to have found a better person than her – Harman Baweja. This announcement over her relationship status serves two purposes. First, the timing perfectly matches the release of Harman's upcoming gangster flick Dishkiyaoon and second, it looks like a perfect way to hit back at her ex-beau John's tweet on his marriage with Priya Runchal!
Stating the obvious!Yes Harman n Me r a couple Finally I have met a person who is a far better human being than I am.Blessed.

— Bipasha Basu (@bipsluvurself) February 19, 2014