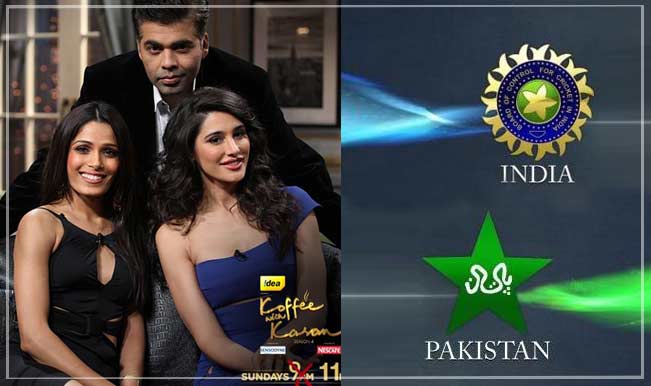 Karan Johar's Koffee with Karan Season 4 has been sizzling on the TRP charts. And going by the promos of the upcoming episode, pout queen Nargis Fakhri and Slumdog Millionaire fame hottie Freida Pinto seem to have taken the oomph factor of the show to another level! Is the episode going to be too hot to handle for the family audience that it has been shifted to 11 pm or is this KJo's desperate attempt to garner more eye balls?
The chat show has witnessed many guests 'getting dirty' on the couch, whether it be about Salman Khan claiming to be a virgin or carefree discussions  about sex scenes in Bollywood with Emran Hashmi and Mahesh Bhatt. This season has definitely had its share of adult content, but just for this one the timings have been changed, We can't help but wonder if it's the only reason for the shift! There definitely is something kaala in this whole business. Little probe and we now have the reason!
If you are following the small screen regularly you must have seen the BIG match that is happening on Sunday. Yes, its arch rivals India vs Pakistan match and no matter who is on the show the viewers will give the show a miss. This perhaps explains why Karan Johar is going around saying its the content that is responsible for the shift right?
So, is Karan Johar worried that the much anticipated India vs Pakistan match will bring drizzle on his show's sizzle? May be, the fear of falling on the TRP charts is the real reason behind the shift in the time slot! What if gets the real hotties on the show – Sherlyn Chopras and Poonam Pandeys – will that would bring the match to abrupt end?
Do let us know in the comments section below.