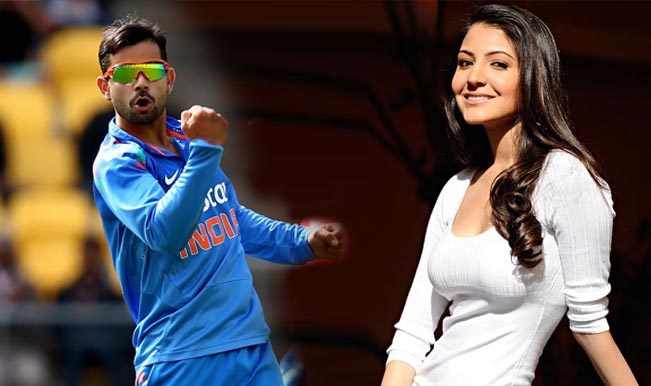 Bollywood actress Anushka Sharma will be in Bangladesh to watch the crucial do-or-die battle between arch-rivals India and Pakistan in the Asia Cup 2014. The actor is not known to be a keen cricket follower but will be present to cheer her beau and Indian skipper Virat Kohli. After the close loss to Sri Lanka in their second match on Friday, Kohli was very upset and the moment this report reached Anushka she decided to be present at Fatullah in Bangladesh for moral support.
The cricketer was also upset with the fact Sharma was in Sri Lanka shooting Bombay Velvet when Indian team lost to Lanka.
For those who still associate Kohli and Sharma with a product they endorsed together, the cricketer and the actor are 'good friends'. Clear hai? They have been spending some quality time together to strengthen their friendship while the actor learns a thing or two about the future cricket captain of India.
The actor on her part has denied rumours that she is more than friendly with Kohli and said people misunderstand her bindaas behaviour with the boys. The cricketer too has maintained the same. He said his visits to Sharma's house late in the night on return from international tours were just a 'friendly visit' to check how was she doing and nothing more should be attributed to the visits. Anushka, who in addition to her 'friendship' with Virat Kohli, was also in news for a lip job (she vehemently denied this and also issued a strong statement). She was first noticed on Koffee with Karan promos looking weird.
Now, if Kohli really needed lady luck to smile on him, he just needs to look in the VIP gallery and lady would be smiling from ear to ear (and deny about her lip job to the world). Looks like the cricket bug has finally bitten Anushka or is it the high voltage drama that she is not going to miss?
Catch the Live Score of India vs Pakistan Asia Cup 2014 Match here
For updated points table and team standing for Asia Cup 2014 tournament click here
Click here for the fixtures and match timings
Disclaimer: We hope Anushka makes lady luck smile on Virat Kohli and Indian cricket team when they clash with Pakistan. We dont know if Anushka will be in Bangladesh.