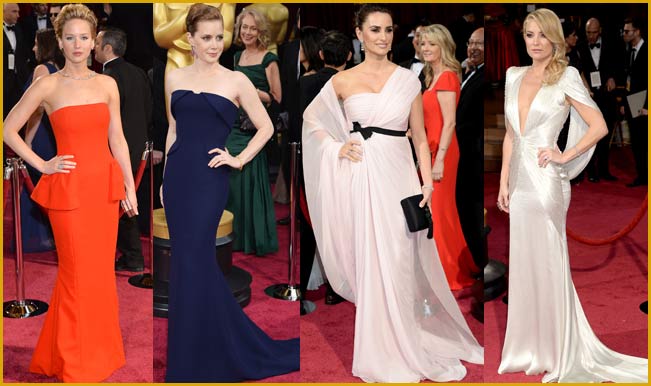 The 86th Academy Awards – the planet's most stylish, glamorous and entertaining evening of the year  – took place at the Dolby Theatre in Los Angeles on March 2. The Oscars are all about awards, style, glamour and gowns! Each year, the excitement doubles up when you get to see the biggest stars – especially the actresses – dazzle on the red carpet. And these ladies do not disappoint you either, when they lighten up the evening with their shining appearances.
Check out the delightful arrivals at the Oscar Awards 2014 of these beautiful goddesses.
Amy Adams
In her simple yet elegant navy blue Gucci dress, Amy Adams was hands down among the best dressed celebs to lighten the Oscar Awards 2014 evening. The nominated actress mixed up her style with the uber chic hairdo and Tiffany earrings.
Sandra Bullock
Her love for the blues (colour) continues at this Academy Awards as well. And we do not blame her for her choice of colour as she simply rocked in her navy blue Alexander McQueen Oscars gown accessorised with Lorraine Schwartz jewellery. Thumbs up for yet another memorable Oscar look, Sandra!
Kate Hudson
How does she manage to look so gorgeous at every red carpet appearance? Everything about her look was perfect, be it the choice a Atelier Versace caped cleavage gown or her side swept hairstyle. She looked a true ethereal beauty, sexy and sophisticated.
Camilla Alves
The proud wife and model Camilla Alves accompanied her husband actor Matthew McConaughey in a simple Gabriela Cadena gown, Charlotte Olympia shoes, and Lorraine Schwartz jewels. Sporting a very classic look for the evening, Camilla stole the limelight.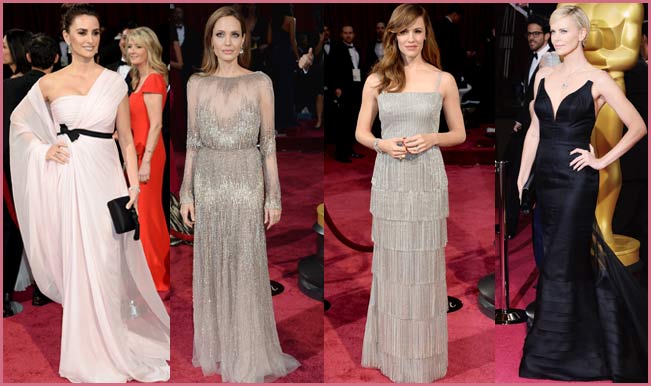 Penélope Cruz
Keeping with the trend of going quite easy on the colours, Penélope Cruz turned up in a Giambattista Valli pinkish pearl white dress. The small black bow around and a black clutch, with hair pulled up in a bun completed her look.
Angelina Jolie
She donned an Elie Saab Haute metallic silver gown with long sleeves. She complimented her sparkly gown with a simple and straight hairstyle, with Robert Procop jewellery.
Jennifer Garner
Wearing a silver Oscar de la Renta dress, Jennifer Garner was a surreal beauty. Only we wished the layers of her dress were a little less in numbers and she could have experimented with her hairdo. But over all she is one stunning woman to be looked at on the red carpet!.
Charlize Theron
Charlize Theron dressed in a black Christian Dior haute couture outfit and looked great. She is definitely fascinated with long trains for her dresses. With that glam hairstyle, accessorised with Harry Winston jewels, she made quite an impact with her appearance.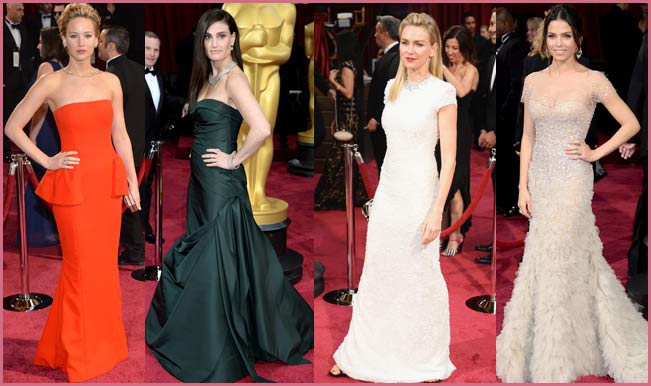 Jennifer Lawrence
She wore a bright red Dior to attend the Oscars 2014 at the Dolby Theatre. With the backward diamond chain, clutch, and simple hairdo, she looked pleasing in her well-fitted dress.
Idina Menzel
Moving away from the whites, pinks, and nude colours, singer Idina Menzel chose an emerald green Vera Wang dress. With the straight hair and Chimento jewellery, Idina surely must have made fellow attendees go green with envy.
Naomi Watts
Naomi Watts' red lipstick would have surely made it to the highlights of the evening. She wore a sparkling sequined white Calvin Klein dress with Bulgari jewels and a clutch.
Jenna Dewan-Tatum
She looked like a Disney princess in her Reem Acra dress. The nude coloured feathery dress with sparkled beads is quite a contemporary yet classic taste. The loosely tied bun with perfect accessories made the doe-eyed beauty look chic.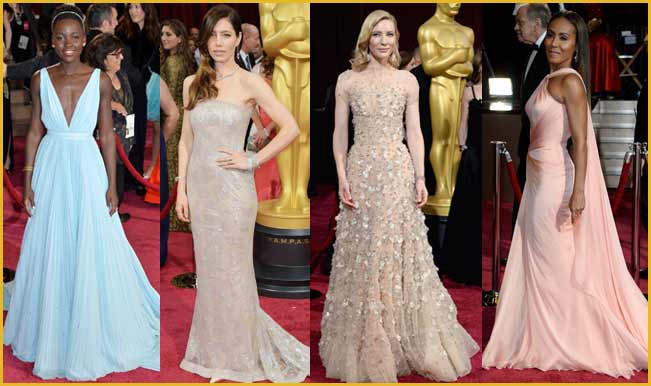 Lupita Nyong'o
The Best Actress in a Supporting Role for 12 Years a Slave, Lupita Nyong'o wore a sky blue Prada gown. She dressed as Disney Princess Cinderella and also lifted her gown to mimic the princess. But how we wish she'd avoided that little headband.
Jessica Biel
Actress Jessica Biel was all shimmers in the Chanel dress. In the strapless couture gown and side swept hairstyle, the actress looked marvelous.
Cate Blanchett
The Best Actress winner for Blue Jasmine looked quite a downer in her Armani Privé gown. The nude colour was in fashion among the attendees, but the colour looked quite dull thing on the actress. The opal earrings did not help the look either.
Jada Pinkett Smith
Jada Pinkett Smith was clearly among the winners of the best dressed celebrities. She was a stunner in her pink Versace dress, Cartier jewels and Ferragamo shoes. She further accessorised the look with a clutch.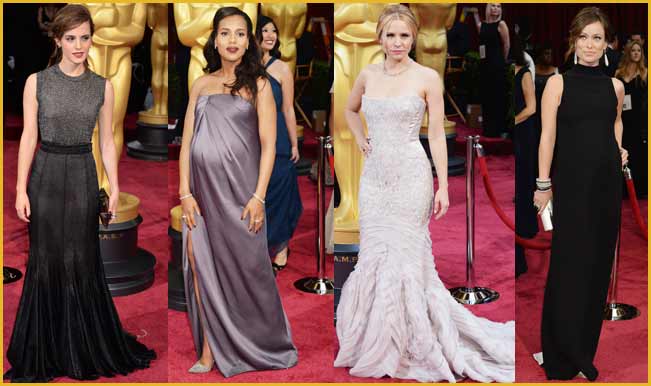 Emma Watson
Not a very magical red carpet appearance for Harry Potter girl Emma Watson who was making her debut appearance at the Oscars, as she sported a Vera Wang see-through floor length gown. The matching clutch and accessories did not do much, except for the dash of contrasting lipstick colour.
Kerry Washington
Another expecting mommy could not quite pull off a great show at the Oscars red carpet with her appearance. The Scandal star wore a Jason Wu strapless gown, with a knee length slit. Well, the best thing about her was she looked radiant – call it the baby glow!
Kristen Bell
The Frozen star wowed the crowd in her white fitted gown with a mermaid train. Wearing a strapless dress with perfectly structured bodice, she kept the look elegant.
Olivia Wilde
None could guess she is seven months' pregnant, as she turned up in a stunning black Valentino gown. Clasping a white clutch, with a few loose strands of hair on her face, she looked amazing.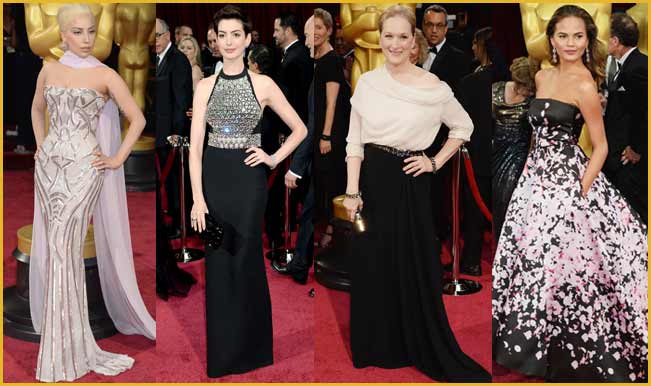 Lady Gaga
Known to have quite an outrageous fashion sense, Lady Gaga surprised many onlookers with her pink mermaid gown. Wearing a Versace gown with a matching pink shawl, she looked quite mainstream compared to her bizarre fashion statements. She completed the look with Lorraine Schwartz diamonds.
Anne Hathaway
A sheer disappointment with her choice of dress. Anne Hathaway wore a flashy black halter Gucci dress at the Oscars. She looked quite monotonous with her hairdo, dress and overall look.
Meryl Streep
The talented actress put up quite a show with her black and cream Lanvin gown. The off-shouldered neckline, the studded belt around and a similar clutch, with no heavy makeup and accessories was a perfect ensemble.
Christine Teigen
Singer Christine Teigen chose to go with floral, as she donned a Monique Lhuillier floral gown to walk the red carpet with her husband John Legend. Her pink and black dress was accessorised with Jimmy Choo sandals and Lorraine Schwartz diamonds.
Quite a few headturners at the 86th Academy Awards! Tell us who you liked and who you didn't.
Also Watch Gallery 86th Academy Awards: The Hottest Red Carpet Arrivals