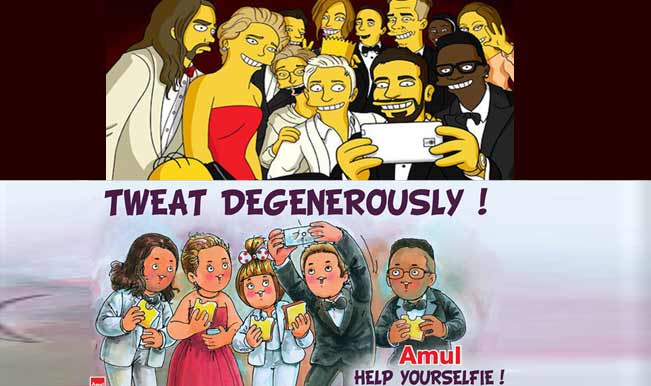 The Amul girl and the Simpons have given their take on the buzzing Oscar Selfie which broke the record of maximum re-tweets. Nothing is famous, unless someone recreates it! So, India's beloved brand Amul recreated the selfie with their famous Amul girl while The Simpsons which has a wide fan base, recreated the selfie with its two most loved characters 'Bart Simpson' and 'Homer Simpson'.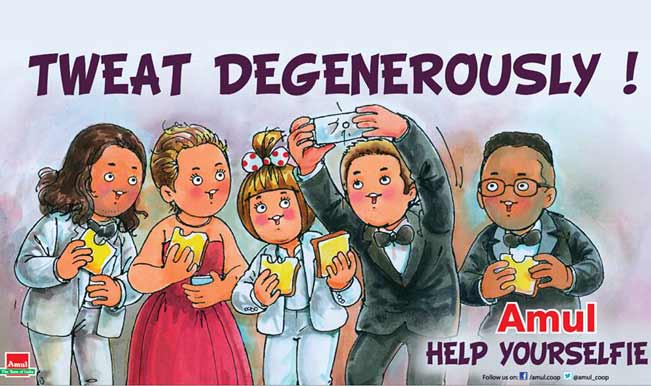 When it comes to brilliant caricatures and copy, we know the Amul is hands down! Anything that happens on world, Amul just makes it interesting with its print ads. So, how would they spare Oscars!
The Amul creative which featured the much talked about 'Oscar Selfie', made Ellen DeGeneres is the Amul Girl! The creative includes Bradley Cooper taking the selfie, Jennifer Lawrence, Peter Nyong'o Jr. and Jared Leto. The copy says 'Tweat Degenerously' and the tagline says 'Help YourSelfie'
Amul once again proves that, no one does wordplay better than them!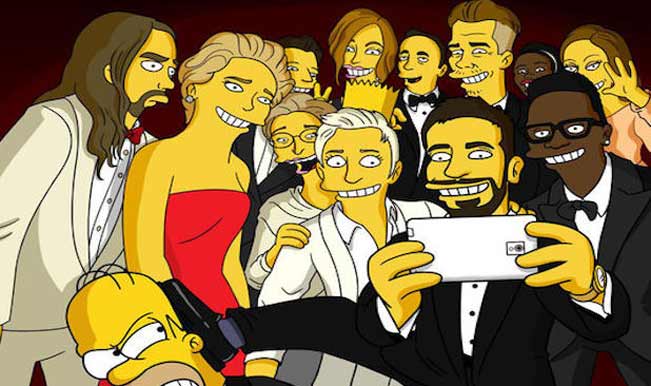 The greatest selfie deserves the greatest parody!  The Simpsons recreated the famous Oscar selfie with Bart and Homer Simpson. The picture involves Homer being kicked out of the frame by Bradley Cooper and Bart's famous spikes can be seen peaking above Ellen.
The highlight of the sketch is that artist has nailed everyone's expressions. From the sceptical Jared Leto to Angelina Jolie's hand gesture! This is a parody perfect sketch. It was uploaded on twitter with the caption: 'The ugly true story of that Oscar selfie can finally be told!' and the creator then urged the Simpsons fans to break Ellen's record saying 'Let's break Twitter again.'
So which one has your vote?