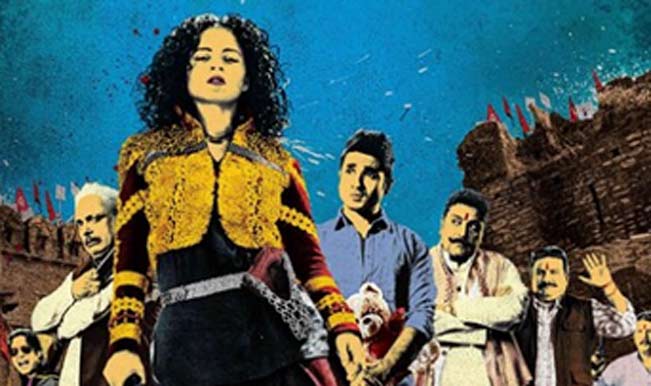 Kangana Ranaut's new movie Queen hits theatres on March 7 and she has already started getting rave reviews for her role. But we also got a chance to glimpse the other side of the Queen today – with the release of the first theatrical trailer of Kangana's next film Revolver Rani. The actress flaunts a totally different avatar in the movie.
The first look of her upcoming movie is unlike her any other portrayal of role we have seen till today. The first poster has Kangana very prominent in the front posing along with a revolver, oozing loads of attitude and in the backdrop the rest of the cast including Vir Das who is acting opposite her. The tagline below says 'Ab mard ko dard hoga'.
The movie is set in the locale of Chambal and Gwalior. The Revolver Rani trailer shows Kangana playing a dacoit-type gutsy woman who is active on the local political scenario. The movie unfolds into a satirical and a bizarre love story between Rani and her toy boy film star (Vir Das) amidst politics.
Kangana has earlier played a gangster's girlfriend in the movie Gangster. But this role is completely different from it. Revolver Rani seems to be the toughest of them all. It was speculated that earlier Tabu was approached for the role.
"It's a very unusual film, in which my looks are very different. I have to look unattractive in the film and for the first time I have to take care that I do not look beautiful," said the actress who apparently took training to use the revolver to make her role believable.
"I have been taking lesson on how to use a revolver. My trainer is teaching me how to hold it right, how to aim and load it. It's nice. Pistols are okay, but I didn't expect revolvers to be so heavy," she added.
Revolver Rani is expected to hit theatres on April 11, 2014. The film is made under the banner of Wave Cinemas, directed by Sai Kabir and produced by Tigmanshu Dhulia.
Watch first theatrical trailer of Revolver Rani:
With inputs from agencies