She's the uber cool girl from B-town. A Miss World, a Bollywod star, an international pop star. Priyanka Chopra has done it all, and with style. And her latest style statement is not the Rolls Royce car she's been flaunting at award shows and parties, but a super cool Harley-Davidson bike she's bought for herself!
Although we didn't expect Priyanka's first motorbike to be pink– considering that's a cliché for girls – if pink is what she loves, we're suggesting some sexy accessories for her bike ride. Cool stuff in pink, white and black. And with a special women's bike rally that took place in various Indian cities to celebrate International Women's Day, we think PeeCee should get into the biking mood and just join the fun! Check out the biker helmets, jackets, sunglasses, gloves and boots.
1. Biker Helmets: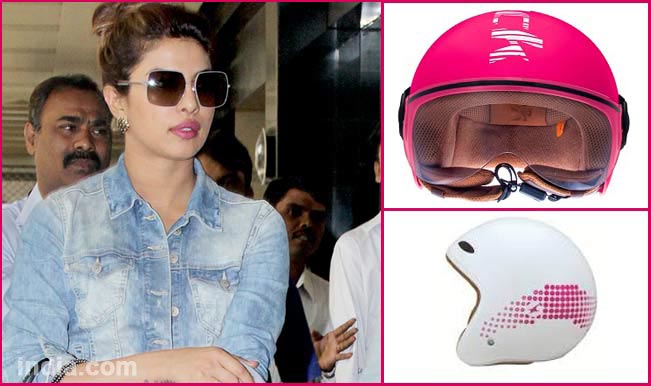 Priyanka can don sexy new helmets from Indian Fastrack. They are available in pink and white and many other bright colours. Unisex black versions are also available.
2. Biker Leather Jackets: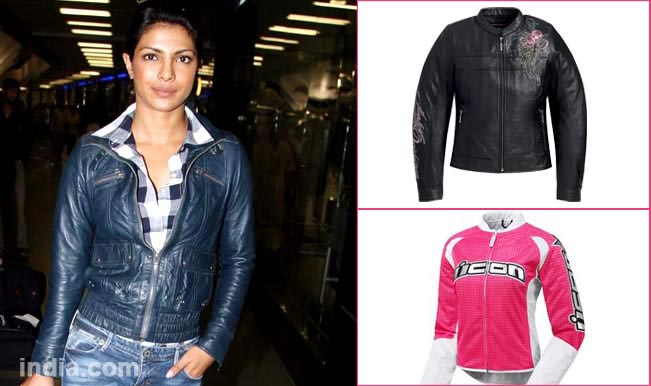 The jet-setting Priyanka is used to wearing leather jackets, especially when she is walking out of airports right into the eyes of shutterbugs. We suggest she either use one of those jackets or buy cool women's biker jackets from eBay or the Harley Davidson website.
3. Biker Boots: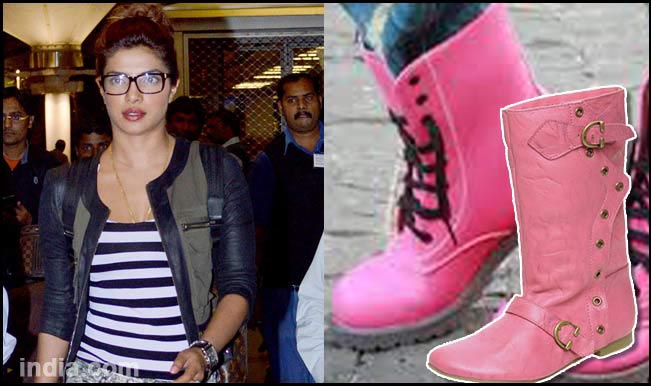 Your boots speak a lot about you – especially if you're on a bike. We suggest Priyanka wears black boots if she's going with a black jacket. Since her bike is pink, boots in pink might be a bit too much. But she could wear them if she wants to have the all-pink look.
4. Biker Sunglasses: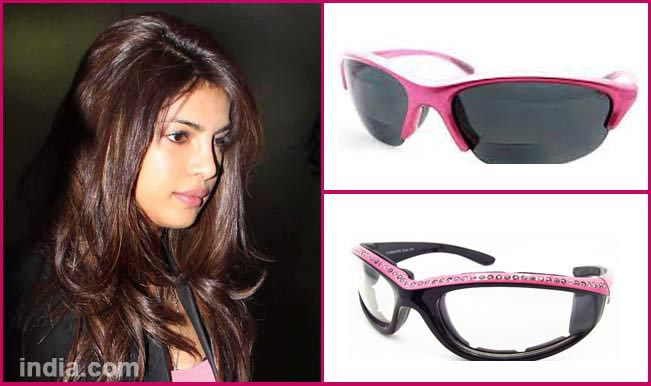 Sunglasses specially made for bike-riding look cool and also add glamour apart from providing protection to the eyes. Krrish 3 girl Priyanka would look sexy in these black and pink ones.
4. Biker Gloves: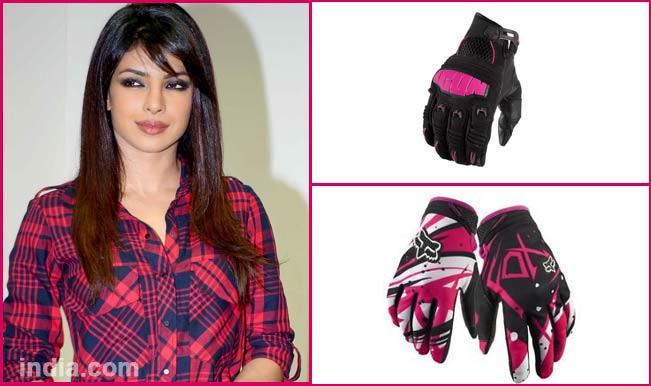 Biker gloves are a must for the delicate-looking but strong hands of Priyanka Chopra. She could go in for simple or fashionable ones. What do you think of these bike accessories for Priyanka Chopra? Can you suggest any new ones? (Photos: Yogen Shah, Priyanka Chopra Twitter, ebay and biker fan clubs | Imaging: Jyoti Desale)