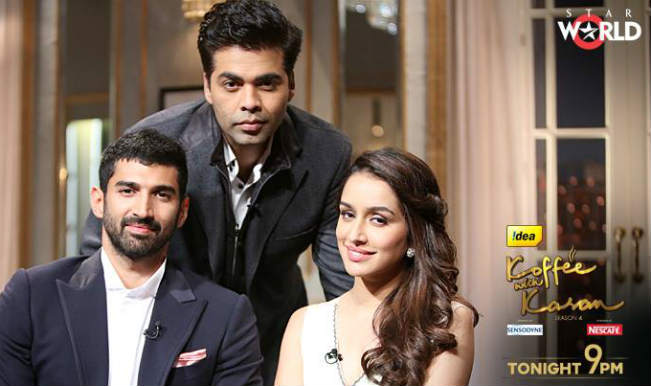 Koffee With Karan Season 4's episode featuring rising star Aditya Roy Kapur and the gorgeous Shraddha Kapoor should have been probably aired during the Valentine's Day weekend. The chemistry between this lead pair of Aashiqui 2 was so evident that the constant denial, saying that they have a 'deep Friendship' and nothing more, didn't work for them as such.
Though at a point, Aditya confessed, "Yes! We both love each other very much!" much to the glee of Shraddha. They also sang their movie's title track Tum Hi Ho with so much passion that the spark between them was more than evident. But the way they sang, they can give any singer a run for their money!
Also, there is a new bromance in tinsel town! Aditya accepted that he loves his bro, co-star Ranbir Kapoor and wouldn't mind having a gay encounter with him.
When it came to the rapid fire round, Shraddha put up a good fight, but Aditya swept away the glamorous 'coffee hamper'. Also, most of his answers included Deepika Padukone. We can't help but wonder if this tall, fair and handsome man has the hots for the leggy Deepika. But then who hasn't, right?
So, if you are in the mood to watch a one-hour long rom-com, you could probably go and watch this episode of Koffee with Karan Season 4. And if you have nothing to do with romance, then you can gladly skip it, because the chemistry between Aditya and Shraddha is so strong that it might make you nauseous.