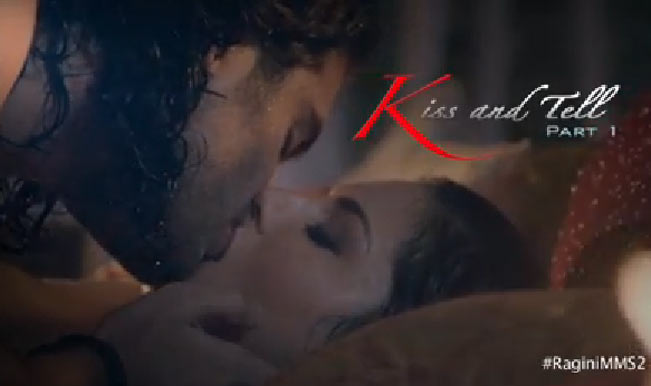 We're not sure if Sunny Leone's horror-sex film Ragini MMS 2 will be a hit or not, but producer Ekta Kapoor is sure trying hard for the film to work! And so, every other day we see a sex clip or two about pornstar-actor Sunny from Ragini MMS 2, but with a new guy every time! Sometimes it's Sunny's hot shower sex scene, the other times a fake orgasm, and now in Kiss & Tell it's simply a bunch of smooches.
Sunny's Kiss & Tell video from Ragini MMS 2 – said to be exclusive – opens with Sunny putting on makeup for her man and cuts to the couple in bed – with actor Saahil Prem kissing Sunny. There are a lot of smooches in the video, and just like the Sunny Leone shower sex scene video, these clippings show the making of the scene.
Saahil shyly confesses that shooting the video was indeed fun. He also reveals that the director and the crew didn't say cut for a very long time and so "We just kept kissing!" Wow. Looks like the director really wanted a 'natural' kissing scene here.
Ragini MMS 2 releases on March 21, 2014.
WATCH: Ragini MMS 2: Sunny Leone's hot Kiss & Tell video – Part 1

(The video has been removed by the production house from YouTube. We shall update it as soon as it's up again.)
ALSO SEE: Sunny Leone can look sexy even in a traditional saree!