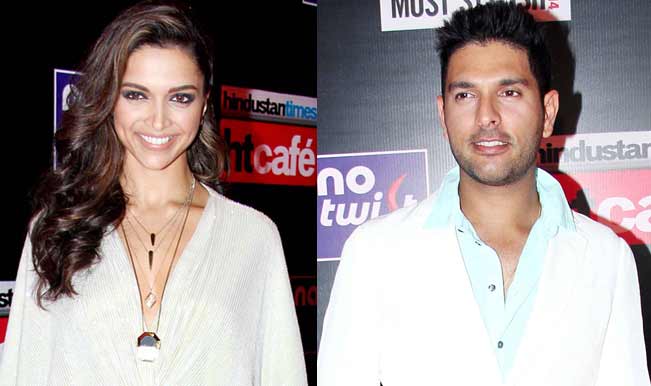 Bollywood actor Deepika Padukone recently confessed to being in tears after her break-up with former boyfriend Ranbir Kapoor, who is the heartthrob of the nation. Speaking at the India Today Conclave, she had said that she became a better person after splitting with Ranbir.
Looks like being 'a better person' here means still being friends – or friendly – with all your ex-boyfriends! We're not sure how Dippy girl behaves with Nihar Pandya if ever she bumps into him, and we're not even considering Sidhartha 'Sid' Mallya who seemed to be more her protégé than boyfriend.
Who we're talking about here is hotshot cricketer Yuvraj Singh. The former India ODI vice-captain and Deepika were quite an item a few years back, and she had even hosted his birthday party. But they fell apart soon, apparently due to the batsman's possessive nature.
So we were quite surprised to see our Ram-Leela babe go up to Yuvraj and hug him, even as she made an entry on the red carpet at the HT Most Stylish Awards show that was held last weekend in Mumbai. Deepika spotted him at the entrance of the ballroom and promptly turned around to hug him before walking in. Yuvraj too responded warmly (and why wouldn't he?).
We thought it was quite a sweet gesture on Deepika's part. But seeing the spontaneity of her jadoo ki jhappi, we wonder if the exes are still in touch – especially after what Yuvraj had to endure in terms of cancer.
But about the moment, all we could think was – thank god Dippy's current beau Ranveer Singh wasn't around!