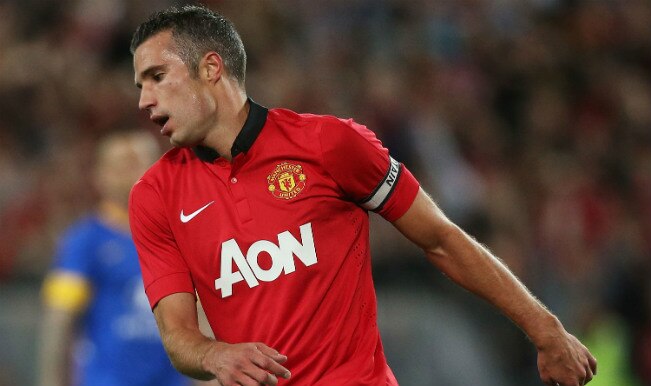 Dutch striker Robin van Persie has insisted he is "very happy" at Manchester United and has no problems with manager David Moyes. Robin van Persie was highly instrumental in handing Manchester United the English Premier League title after he joined from rivals Arsenal last year.
The striker won the Premier League Golden Boot having scored 28 goals in 36 games for Manchester United under former manager Sir Alex Ferguson. He scored a few remarkable goals, some of which really helped the club to grab the title away from the hands of Manchester City.
After winning the English Premier League for the first time, Robin van Persie was over the moon. In only his first season away from Arsenal, the striker managed to win what he had always wanted. What a great move it was for both parties. Then the worst happened. Sir Alex Ferguson decided to call time on his illustrious career with Manchester United with two games remaining in the League.
Football fans were shocked that the Scot came to such a decision from out of nowhere. But before leaving, the legend screwed around with Wayne Rooney for screwing around with the club, telling the media that the striker "wanted away" from the club.  The Wayne Rooney transfer saga got fans thinking "Would he join Chelsea or Real Madrid?" The limelight was on Wayne Rooney. Not on Robin van Persie.
Why would the limelight be on Van Persie anyway? He was the main-man for Manchester United the last season but wasn't Manchester United's beloved boy. If the Wayne Rooney saga hadn't taken place, there would be other news going flying around instead. News of Robin van Persie "wanting away".
The Dutchman wanted to win the English Premier League title for the first time, but didn't choose Manchester City. Fans would reckon that he didn't join them because he isn't one of the money-whores in football. But if you really think about it, he would certainly have joined City, had Sir Alex Ferguson been at the helm of the club.
Robin van Persie was most glad of the prospect of playing for Sir Alex Ferguson. Moving away from one father-figure to another is the perfect move in a football career. Arsene Wenger made him what he is. Sir Alex Ferguson then took Van Persie's help to claim his last piece of silverware.
The love story then ended in a matter of months. It will be a mix of the best and the worst title the Dutchman will ever win. Robin van Persie will always remember that to gain some you have to lose a legend. Manchester United lost a legend who called each and every shot.
Since then, Robin van Persie and Manchester United have had all fans around the world scanning each win and loss. The losses bring a few doubts, but the current season seems like all hell broke loose in the Manchester United camp.
The striker has scored 14 goals in 23 appearances for United this term, but the 30-year-old's performances and attitude have come under scrutiny. Anyone who has followed a Manchester United this season, can see from Van Persie's body language that he's certainly not happy. His movement on the pitch has been below-par. Even though he's grabbed those goals, he hasn't played as well as in the last season.
Robin van Persie feels betrayed if one can say. He feels betrayed by his decision to move to Manchester United so late in his career. Only because of Sir Alex Ferguson's departure. He now answers to a "nice-guy" David Moyes and probably doesn't think much of him.
His discontent began when David Moyes played him in a game against Shakhtar Donetsk in October, due to which he aggravated his toe injury which almost ruled him out of Netherlands' last World Cup qualifier against Hungary. Van Persie was on the verge of matching the record tally of goals for the Dutch national team but it seemed like he would have to miss the Hungary game and wait for another chance.
The Manchester United striker was suffering from the "nasty" toe injury since a long while and had even taken a pain-killing injection before Red Devils' clash with Sunderland a weekend before the mid-week Shakhtar game. The manager couldn't risk not having him in the squad and chose to play him over back-ups Danny Welbeck and Javier Hernandez.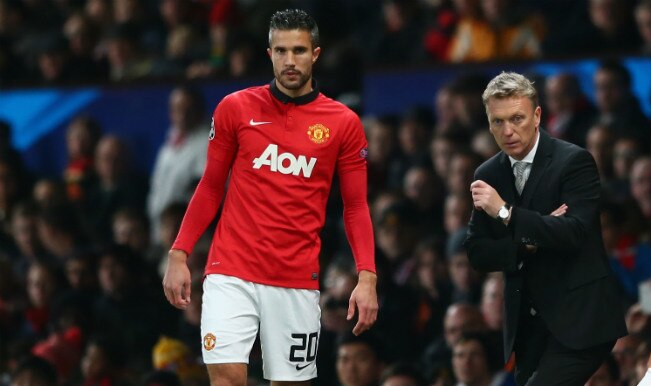 He played the Hungary game for an hour, scoring a hat-trick which made him Netherlands' top goalscorer of all-time. He broke the record but he had to go through mental torment. Add to that, the possibility of not playing in the Champions League next season. Here began his hate for new manager – David Moyes.
In the middle of February, Dutch coach Louis van Gaal confirmed that Robin van Persie was happier playing for the Netherlands than Manchester United. Suggestions that Van Persie is unhappy with Moyes' training methods began to surface too. After which rumours of the striker looking to leave Old Trafford at the end of the season seemed reasonable.
But Robin van Persie says he's "very happy" at Manchester United. He said, "I signed for four years and I'd be delighted to stay longer, beyond the next two years I have on my contract."
No one is sure whether he rally means it, but Man United need him. If David Moyes wants to improve performances next season, he will have to hang on to the best player in his squad.For that to happen, Moyes will have to settle his differences with Van Persie, just like he has done with Wayne Rooney.