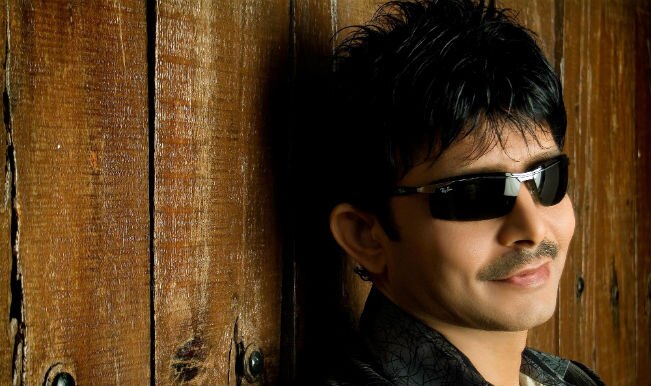 If anyone wondered if politicians were idiots or just eccentric, the appointment of Kamaal R Khan puts such arguments to rest. A veteran- idiot has joined Samajwadi Party Mumbai. His appointment adds to the star studded line-up in politics after AAP declared Gul Panag as their candidate from Chandigarh.
The Twitter-famous celeb even gave a piece of his plans of what he will do to Gurudas Kamat.
I thanks 2my party #SP for choosing me 2contest against Gurudas Kamat. Inshallah I will defeat him easily n work 4the ppl of constituency.

— KRK (@kamaalrkhan) March 14, 2014
We look at what to expect from Kamaal R Khan – Samajwadi Party's new candidate:
1- Violent behaviour: Kamaal R Khan is noted for his skills when it comes to throwing the nearest object to him towards a target that intimidates him. KRK verbally abused Rohit Verma on Big Boss and threw a water bottle at him, which instead hit Shamita Shetty. Expect him to throws chairs, tubelights or pens at the media and competition. (Read: What Indian politicians can throw)
2- Lot of terrible pics of his 'hero' poses: The Bollywood stud is the most deluded person on earth. He thinks he's the best looking male in the world and thinks his fashion sense is top notch. His tacky suits are the best.
3- News on Cartoon Network: While we have politics and news reported by Arnab Goswami, be sure to find any news when it comes to Kamaal R Khan's political speeches on your kids's favourite channel – Cartoon Network.
4- More tweets: He will never stop tweeting. Allah! Save us all!
5- More kisses: Before calling it a night, Kamaal K Khan never fails to give his precious kisses to his favourite Bollywood stars.
Good morning and kiss to light n kick to dark.

— KRK (@kamaalrkhan) March 12, 2014
6- Bad advice: If there's someone gullible who follows KRK on Twitter, it's over for that person. Kamaal R Khan doles out not-so-Kamaal advice to people.
All the best to students starting or in the midst of exams, study hard, copy hard n kill it at the boards n Slap the teacher if he stops U.

— KRK (@kamaalrkhan) March 13, 2014
7- Dubai connection: KRK boasts of living a great lifestyle in Dubai. Maybe there's a mega-deal in store between India and Dubai? With political backing, anything's possible!
If you want to enter in my Jannat then find out this road. pic.twitter.com/XRjsdkXXUC

— KRK (@kamaalrkhan) February 16, 2014
8- 2 Rs attacks: It's safe to say that there will be huge fights between KRK and his rivals. Expect tweets like "Congress leader Gurudas Kamat and MNS' Mahesh Manjrekar are boths 2 Rs ppl"