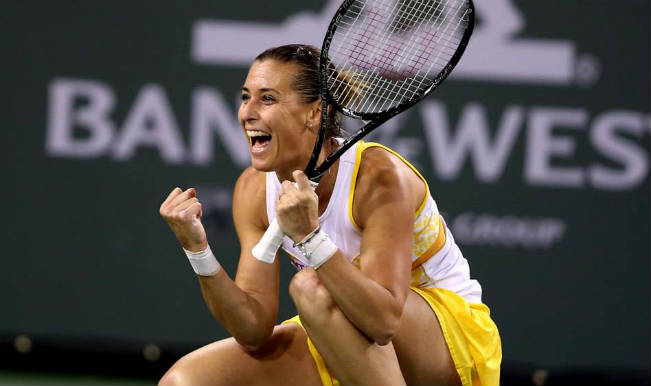 World No. 2 and reigning Australian Open champion China's Li Na was thwarted by Italian Flavia Pennetta in the semi-finals in the women's singles of the BNP Paribas Tennis Tournament in Indian Wells. The Italian won against the top seed Li Na in straight sets 7-6 (7/5), 6-3.
Li Na came into the match with a better head-to-head against the 21st ranked player Pannetta, leading 3-2. But despite the first set going into the tie-breakers, the Italian held her nerves to emerge out as the winner in this semi-finals match in the Indian Wells.
World No. 2 Li Na was given the top billing as the world no. 1 Serena Williams does not participate in this tournament owing to the controversial history with the tournament, Li Na came off a difficult quarter-finals match against the 2014 Australian Open finalist Dominika Cibulkova. She had won her previous round match in the tough three sets 6-3, 6-4, 6-3.  An right throught the beginning of this match, she looked out of sorts against the surprising onslaught by the much below ranked Pannetta.
For Flavia Pannetta, it is very not surprising to hunt down the top seeds ass she has a fantastic record of slaying big names and Grand slam title winners like Maria Sharapova, Justin Henin, Amélie Mauresmo, Victoria Azarenka and now Li Na. In order to win what would be the biggest title in her career, Pannetta will have to repeat another inspiring performance against the winner of other semi-finals and world number 3 Agnieszka Radwańska.
Polish player Agnieszka Radwańska defeated Romanian sixth seed Simona Hale in straight sets 6-3, 6-4 in her semi-finals match.