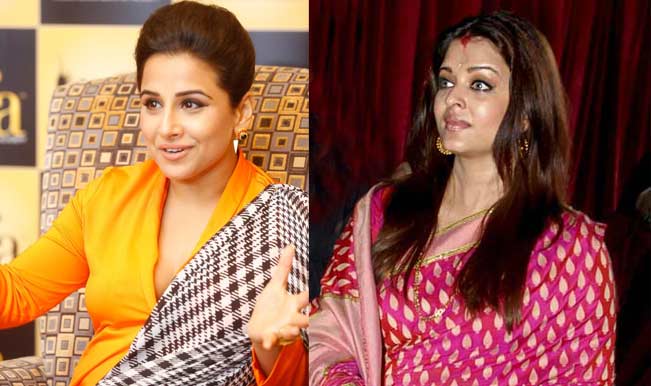 It seems actress Vidya Balan is taking a cue from her Guru co-star Aishwarya Rai Bachchan. No, not for acting (she surely doesn't need tips from Ash there!) but for tricks to hide her baby bump.
The media is abuzz with rumours that Vidya is preggers, and the lady was spotted recently at an event hiding her tummy in a Satya Paul saree. The garment does not fully hide your stomach, so Vidya wore a yellow blouse that looked more like a saree coat or jacket that is usually put on in chilling weather.
While Hollywood actresses happily wear baby friendly clothes and pose for magazine covers with their cute bumps, most of their Bollywood counterparts shy away from such a display.
Why? It's probably because of the Indian tradition of not disclosing the baby's arrival until the mother is a certain number of months into pregnancy. There might also be superstition at play here.
Before Aaradhya Bachchan was born, Aishwarya also used to be seen in long, flowing salwar kameezes or churidars with huge kurtas to not make her pregnancy obvious. And sometimes she wore sarees with the pallu closely attached to her so as not to reveal much.
Vidya was seen doing the same thing, at the International Indian Film Academy Awards 2014′s Oxford Exchange programme at Tampa Bay, Florida, USA – the location for the awards this year. She's on tour to promote IIFA in the US and has been generally seen fully covered – unlike her earlier cleavage and navel revealing sarees.
So, Vidya, is good news in store for the family?
WATCH: Namastey Tampa Bay – Bollywood Superstars invite you for IIFA Awards 2014
The 15th Annual IIFA Awards and IIFA Weekend will be held April 23–26, 2014.
Photos: Facebook