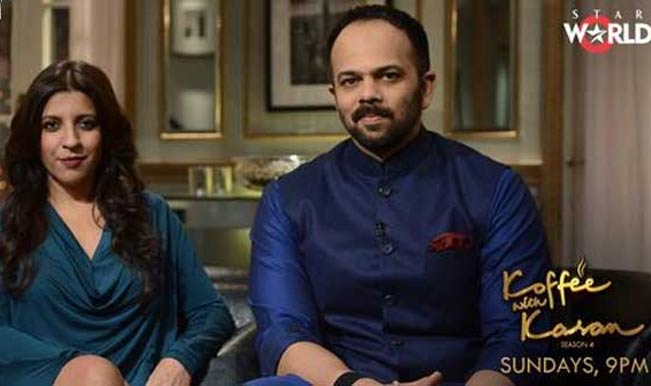 Karan Johar has been keeping the guest list wholesome and fresh on his show Koffee with Karan Season 4 to keep the audience hooked. The upcoming episode has Zoya Akhtar and Rohit Shetty sharing the couch. The unlikely pair of directors coming together for the very first time is indeed out of the ordinary.
They are both different strokes for different folks. Finding two very unlikely people sharing TV screen space is quite interesting. Rohit is known for his masala slapstick comedies while Zoya for more human bonding movies with portrayal of development of a close, interpersonal relationship. And when these two came on KJo's chat show they showed up in a completely new persona. Both were dressed up and ended up in a bout for the coveted gift hamper of KJo.
"He can't get hits and hampers," says Zoya firmly, in the episode promo released recently. Rohit replies, "Arre, I've come here all dressed up. Have you seen me like this ever?" Zoya snaps back, "Have you seen me like this ever?"
Let's wait and watch the next episode of Koffee with Karan this weekend to find out who will ultimately win the gift hamper in Karan's rapid fire! And what secrets KJo would make these two filmmakers reveal.
REVEALED: Anushka Sharma's lip job disaster, on Koffee with Karan!