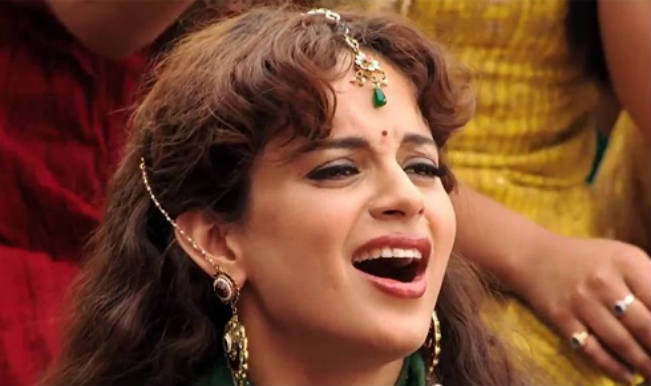 Kangana Ranaut made a mark with her fine acting skills in her recent movie Queen. The whole Bollywood industry was amazed by her amazing skills and was gained the title of a powerhouse of acting. Her power packed acting left Deepika Padukone jealous of the terrific response for the movie. The movie Queen has also been appreciated in festival circuits despite being made as a commercial venture.
After the success of Queen it's yet another reason to celebrate her all over again on 23rd March she turns 27. Lets look back at her unforgettable amazing songs from her movies.
Tu Hi Meri Shab-Gangster
She began her Bollywood career with this movie after modeling and theatres. She received many awards and accolades for Gangster. The movie being a Mahesh Bhatt venture this movie had many amazing songs .One of them being Tu Hi Meri Shab, which was one of the most popular song of this movie supposedly based on mobster Abu Salem and Monica Bedi.
Bin Tere-Woh Lamhe
The noteworthy performance was critically acclaimed for her lead role which was supposedly based on the life of Parveen Babi and her stinct with schizophrenia and her turmoil relationship. This song Bin Tere has Kangana in a very emotionally fragile state alongside Shiney Ahuja. This heart wrenching melody touches you heart.
Jalwa-Fahion
Even though the lead character was played by Priyanka Chorpra, it was Kanagana's performance appreciated and talked about more than Priyanka's. This song has Kangana on the ramp with blatantly oozing attitude. Kangana played the role of a supermodel struggling to cope with her fame and substance abuse.
Soniyo-Raaz 2
Soniyo was coined the love anthem for year 2009.With amazing rendition by Sonu Nigam and Shreya Ghoshal the song was pictured beautifully with Kangna and then her boyfriend Adhyayan Suman. Even though this was a horror flick, this particular song turned out to be the most amazing romantic song.
Saddi Gali-Tanu Weds Manu
The only music you can tap your feet and dance crazily is Punjabi tunes, Saddi Gali is the funky Punjabi wedding song from Tanu Weds Manu.The bold small town girl getting sloshed every now and then is amazingly captured by Kangy.
Fire-Kites
Even though she is not a good dancer and we have barely seen her stepping into dance shoes. This was the first song 'Fire' from the movie Kites which has her match a few steps with Hrithik Roshan.
Tum Jo Aaye-Once Upon A Time In Mumbaai
Once again a period gangster movie based on the underworld scene of the 70s. And Kangana played an actress in the film; this song has a romantically inclined relation between her and smuggler Sultan Mirza played by Ajay Devgan.
Yeh Junoon-Shootout At Wadala
Yet another crime thriller has this only love song which is amazingly sung by Mustafa Zahid. This one is probably the best song from this movie.With Kangana and John Abraham sharing an equally sensuous love making scene this is a beautiful soundtrack you could fall in love with.
Hungama Ho Gaya-Queen
This is the epic party anthem of the season. With Kangy down with few shots and stepping into dancing shoes goes crazy on the dance floor with her killer moves 'Hungama Ho Gaya'. This is the ultimate party hit!