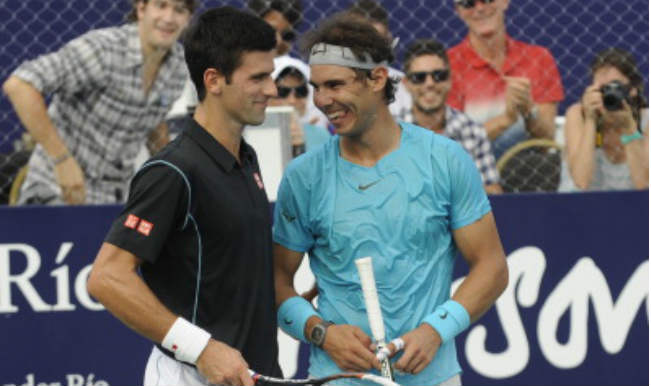 Top seed Rafael Nadal and second seeded Serbian Novak Djokovic will play each other at the finals of ATP World Tour Masters 1000 event on Sunday. In a much dramatic fashion both their opponents' Czech player Tomas Berdych and Japan's Kei Nishikori withdrew from their semi-finals matches respectively.
In the first semi-finals Novak Djokovic got his second walkover of the tournament when Kei Nishikori pulled out of the match due to groin injury. Novak got his free pass in the third round against Florian Mayer who surprisingly pulled out with groin injury as well.
Spectators were keen on watching the rising game of young Kei Nishikori who downed 17 time grand slam champion Roger Federer in the previous match play against Djokovic. Nishikori was aiming to enter his first Masters final and was obviously very disappointed with his injury.
He took to social media Facebook and Twitter to convey his disappointment for not being able to play. He wrote "Very sorry to say that I have to pull out today." On Twitter he said, "Very disappointed and I am obviously very sorry for any fans that wanted to come out for this match."
The crowd at the Key Biscayne were further disappointed when Tomas Berdych withdrew from the match against Spanish Rafael Nadal before the match could start on account of gastroenteritis in the second semi-finals of the day in  the men's singles.
With both the pull-outs, the trend of No. 1 seed taking on the No. 2 seed continued in the men's singles after the women's singles finals comprised of top seed Serena Williams and second seeded Li Na  at this year's Sony Open Tennis.