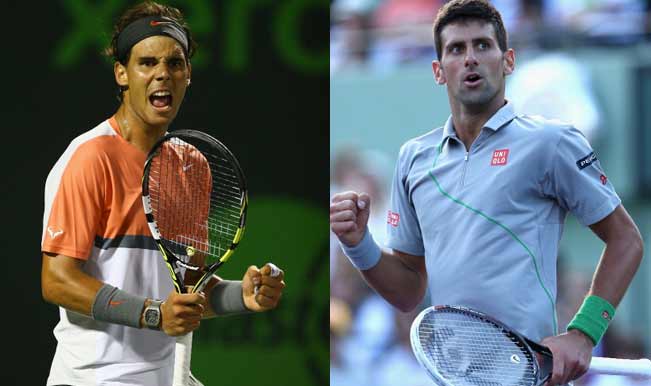 A final could not get better than watching the top two contenders of the tournament fighting it out for the coveted title glory. Making to the finals of the Sunday's ATP Miami Masters 2014 at the Key Biscayne in Florida are the two champions of the game, top-ranked Rafael Nadal and challenging him is the 2012 winner Novak Djokovic.
Both the players are coming off the free passes as both their opponents Tomas Berdych and Kei Nishikori withdrew from their semi-finals match against Rafael Nadal and Novak Djokovic respectively. Berdych and Nishikori pulled out from gastroenteritis and groin injury respectively. Novak Djokovic mentioned about how 'getting walkovers never being good' but knowing his opponent in the finals also got a walkover should relax of him of not getting match practice ahead of the finals.
Djokovic would be keen to repeat the history once again when he defeated Nadal in 2011 in three sets to take the Miami title. Even the past record at Key Biscayne favours Djokovic as he had played more finals than Nadal with four in 2007, 2009, 2011 and 2012 compared to Nadal's three in 2005, 2008 and 2011. The Spaniard has never won the title here while in 2007, Djokovic defeated Nadal in the quarter-finals and went on to become the youngest player to win the title at Miami Masters.
In the modern day tennis, one would vouch for Nadal-Djokovic rivalry being one of the best in the history.  They would be meeting for the 38th time in their career, with Nadal leading 22 to Djokovic's 17 in match wins. But in the finals Djokovic leads head-to-head with 10-9 over Nadal.
It would be an exciting dual to watch top seed Nadal take on Djokovic with his still vulnerable knee and back which affected his movement on the court as last seen in the match against Milos Raonic. While on the other hand Novak would look forward to continue his winning streak and earn back-to-back title after winning the Indian Wells title.