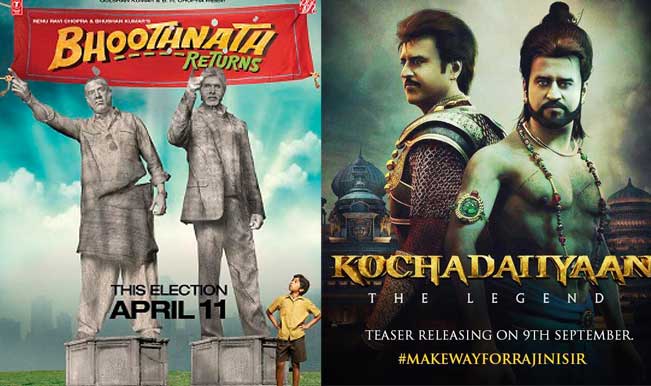 Right before Amitabh Bachchan released the Hindi trailer of Rajinikanth's Kochadaiiyaan on March 30, the grapevine started buzzing about the new release date of the film, May 1, 2014
The makers of Kochadaiiyaan, which essentially comprises Soundary R Ashwin and her team, said that they were 'not ready' with the film yet as far as edits for all the languages was concerned.
The film has been delayed so many times for various reasons, including Rajinikanth's health, that this comes as no surprise. But it seems there is more to the decision to change the release date of the multi-lingual animation extravaganza.
It is clearly to avoid the clash of the titans, as Bachchan's film Bhoothnath Returns has the same election time release date of April 11.
Although Big B and Rajini 'Saar' are quite the 3 am friends, relying on each other whenever in need, Bachchan must've thought it wise to not compete with his good friend at the box office. After all, nothing like a box office war to sour relations between BFFs.
Or are we reading it wrong? Is it just Rajinikanth who is scared to take on the might of Big B in the Hindi-speaking territory? We dunno the reason but we think it is a good decision to not eat into each other's pie. What say?
MUST READ: Rajinikanth: 10 reasons why men hate the Superstar!