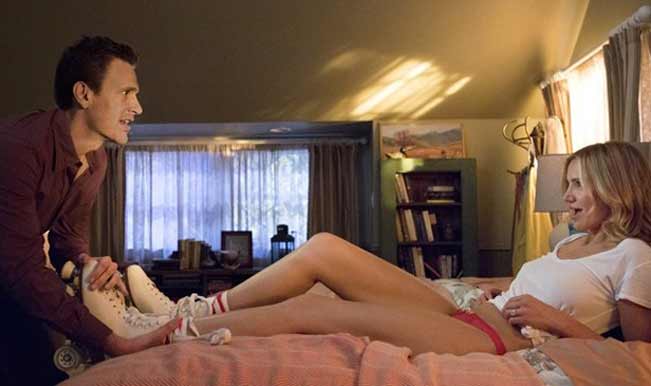 When we heard Cameron Diaz and Jason Segel are doing a film called Sex Tape, we were wondering if Cameron is entering the cheesy Hollywood movies territory. But thankfully she's not! Neither is Jason, the cute guy from the just-concluded TV series How I Met Your Mother who also starred with Cameron in Bad Teacher.
Sex Tape's first international trailer, called the 'Red-Band' trailer, is funny to say the least. While you might be motivated to watch the movie for the much talked about sex scenes filmed on Cameron and Jason, the film actually seems like a harmless entertainer but with and 'A' rating by the censors.
The story shows a couple who has been married for 10 years and are looking for new ways to add zest to their sexual relationship. So Annie (Cameron Diaz) comes up with an idea to create an exclusive sex tape of her three-hour 'encounter' with Jay (Jason Segel).
Jay loves the idea, and they execute it perfectly. But here's the catch. Jay's computer automatically syncs his videos to iCloud, that too, in public mode. So, unknowingly the pair becomes popular for their sex tape, and gets stares from strangers and people who hardly cared for them before – the mailman, the boss, the neighbour!
Now begins the race to remove every possible trace of the sex tape from the face of this earth. But does that happen in cloud computing? Watch the trailer to find out! Sex Tape releases on August 2014. It is directed by Jake Kasdan and is produced by Sony Pictures.
WATCH: SEX TAPE First International Trailer – Red Band [HD]