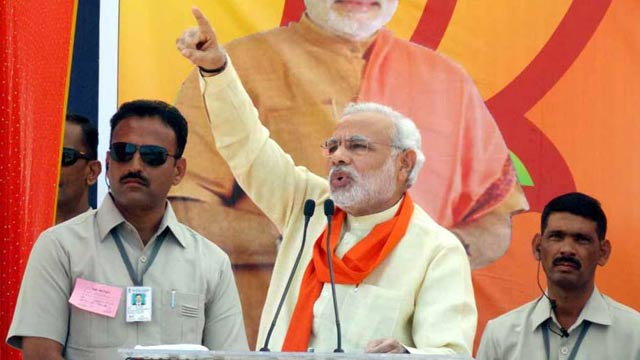 Modi calls himself 'desh ka mazdoor no 1'
Calling himself "mazdoor no 1", Narendra Modi on Tuesday said he would deliver on his promises but sought a clear mandate of 300+ seats to form a stable government. "You won't get a mazdoor like me. Modi is desh ka mazdoor no. 1 hai,'' he told a responsive crowd in Jabalpur where he spoke at length unlike his three previous rallies where he rushed through to compensate for the delay.
Switch complete, Inderjit sells GurgaonBJP dream
Having quit the Congress after a 36-year long association this February, three-time MP Rao Inderjit Singh, now a BJP nominee from Gurgaon, says the Congress is a party where "private interest motivates public policy" and where everything happens as per "the wishes of a coterie".
Modi wants mandate for a PM world will listen to
The BJP's prime ministerial candidate, Narendra Modi, on Tuesday appealed to voters to give the NDA more than 300 seats in the Lok Sabha elections so that it could give a "strong and stable government.""I appeal to voters from Kashmir to Kanyakumari to elect more than 300 MPs from the NDA and all [seats] from Uttar Pradesh. If there is a strong government at the Centre with a Prime Minister who has more than 300 MPs, the entire world will listen to him," he said at a rally in Bareilly.
BJP leadership firm on truck with TDP
The BJP central leadership has reportedly rejected the proposal of Telangana BJP president G. Kishan Reddy to have a tie-up with the TRS and decided to forge an alliance with Telugu Desam Party in both Telangana and Seemandhra regions.Capping days of negotiations, both BJP and TDP have almost sealed a deal on seat-sharing for Assembly and Lok Sabha elections in both the regions on Tuesday and a formal announcement on the alliance, including the seats to be shared is expected on Wednesday.
Bahu fights Jaswant battle
The party has expelled him. His son cannot fight at his side. And the summer heat in the desert can be taxing for a 76-year-old.So, Jaswant Singh's hopes of winning Barmer as an Independent ride largely on a graceful 30-something textile designer. His daughter-in-law Chitra Singh, the star campaigner in the veteran's battle to save his honour against his former party.
Narendra Modi urges people to elect over 300 NDA MPs
Stepping up his offensive against the Congress, BJP prime ministerial candidate Narendra Modi Tuesday said that it faced "certain defeat" in the Lok Sabha poll and urged people to elect over 300 MPs of NDA to form a strong government.He also urged the Election Commission to probe the "delay" in clearance for his helicopters to take off.