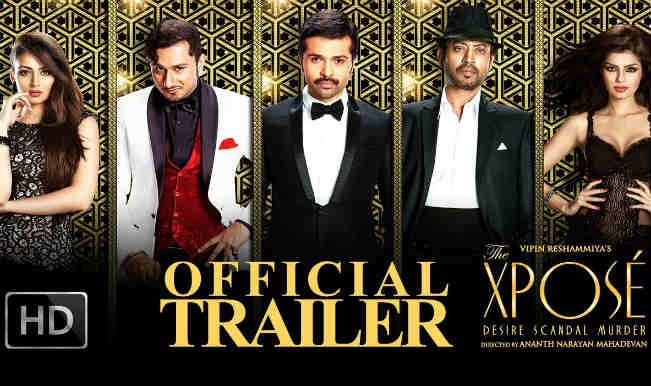 The official trailer of Himesh Reshammiya and Yo Yo Honey Singh's film The Xposé has hit the World Wide Web and in the first look itself it is 'exposed' that it is quite a rip-off of The Great Gatsby!
The film is based in the '60s era of Bollywood, where the life of stars was larger than life. The trailer tells that film has all possible genres shoved in it, you name it and they have it! (Thank God, they left the horror part out.)
The Xposé is supposed to be a dramatic, romantic, musical thriller. We have no idea what genre that is! But still, there is a first time for everything, right?
Apart from Himesh and Honey Singh, the film features Zoya Afroz, Sonali Raut and Adil Hussain and well, traces of Irrfan Khan (which might be the only tolerable part of the movie!).
The Xposé trailer starts with Sonali Raut offering a prayer and before you can digest that, you are hit with the glam and sham of Bollywood in swinging sixties!
The video shows everything that the movie has to offer – from the irritating Honey Singh '60s rap song (We can bet, rap didn't even exist then!), to a slim and trim Himesh to a depressing and totally annoying love song. The movie has it all!
Though The Xposé, directed by Ananth Narayan Mahadevan, has so much in it, the trailer will leave you blah and confused. But the combination of Himesh and Yo Yo Honey Singh is something surely to look forward to. (Sarcasm intended). The trailer tries so hard to be a blockbuster that at the end it's just a buster!
Still, we respect Himesh's never give up attitude (not really!) and it's Yo Yo Honey Singh's debut Hindi film. So, for all the people who danced on Blue Eyes and all those Honey Singh songs (let's be honest, we all have done it!), you owe him enough to watch this trailer!
But warning! You might want your 3 mins 44 seconds back after watching this trailer!
Watch: The Xposé official trailer!