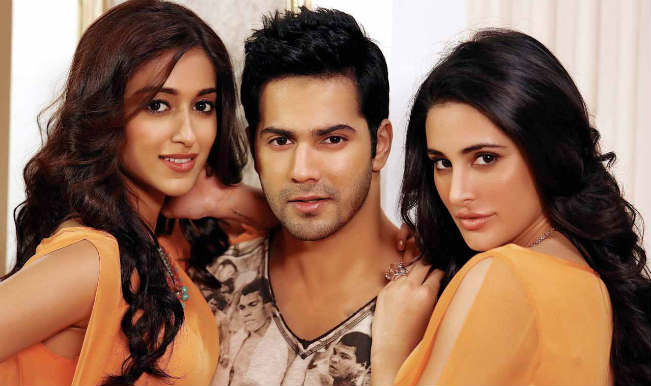 David Dhawan's Main Tera Hero , starring his son Varun Dhawan along with beauties Ileana D'Cruz and Nargis Fakhri, is a movie that you could probably watch because:
a) You are really bored and have nothing to do
b) You love mindless comedies
c) You miss Bollywood actor Govinda!
So, if either of the above does it for you, then you can go ahead and watch Main Tera Hero. Not that the movie is intolerable, but it doesn't even make you go ROFL! The promos didn't promise anything great nor did the movie deliver anything out of the world. So we guess, it was a fair deal.
Main Tera Hero will remind you of all the Govinda movies, especially the funny ones directed by David Dhawan, where even the over-smartness of the hero is charming.
Varun Dhawan, who is just a one-movie old, seems so enthusiastic in Main Tera Hero that sometimes he is just about to cross the line but regains his hold with his charm.
So, the story goes like, Varun's character Seenu lives in the hilly town of Ooty where he is the trouble – a good-for-nothing, and everyone wants him out. So, he decides to go to Bangalore to do something great, in short, to get a life!
Cut to Bangalore, Seenu takes admission in a college of Bangalore (which doesn't look like a college at all!) and on the first day itself falls in love with his college mate Sunaina, played by Ileana D'cruz (who remains silent without a single dialogue for at least 15 minutes, until Varun cracks the Barfi! joke on her!).
So, this hero does everything from singing songs, to delivering flawless dialogues to woo Sunaina. But things are not merry for them, as Sunaina is the to-be bride of corrupt policeman Angad (Arunoday Singh), who apparently has anger issues. But Seenu being the hero he is, saves this damsel in distress from the angry man.
After clearing all the problems, as they romance on the bike, Seenu is attacked and Sunaina is taken away. Now here comes another twist, enters Ayesha (Nargis Fakhri) who is the daughter of a well-known gangster (Anupam Kher). Ayesha is in love with Seenu and wants him no matter what.
So, now Seenu goes to Bangkok to save his lady Sunaina and the roller coaster ride starts. He pretends to mingle with Ayesha and tries to hook her up with Angad (who just pops in the scene to woo Sunaina!).
The second half of Main Tera Hero concentrates on the humour part and has nothing to do with the story line.
The movie is a one-time watch and will make you laugh occasionally. Go for it expecting a typical David Dhawan film!
Rating: 2.5/5