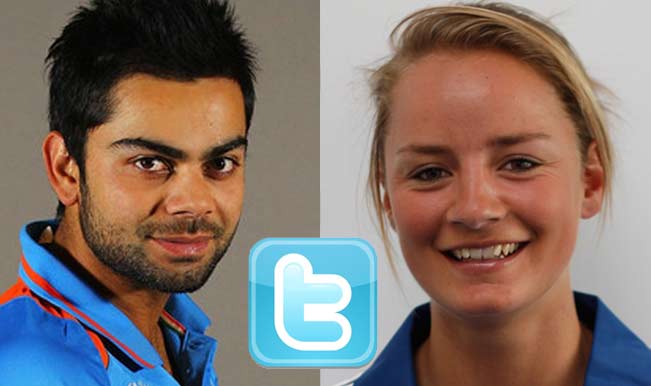 Virat Kohli – a great example of a perfect blend of good looks and talent. The Delhi boy not only scores on the cricketing field but off it too. The Indian vice-captain is definitely a huge hit among girls and is also currently rumoured to be dating Bollywood actress Anushka Sharma.
But Anushka's got some serious competition now, as Virat just got proposed by English lady Danielle Wyatt on Twitter! Who is Danielle? Well, for everyone's information, Danielle Wyatt is herself a cricketer! So the two have a lot in common.
Every female fan is willing to submit to the charming Virat Kohli and Danielle too could not escape the Indian player's charm, who was busy plundering the South African pacers all around the park last night in the semi-finals of ICC World Twenty20 in Dhaka. And his latest fan seemed to be simply bowled over by his brilliant game that ensured a win for India, and went on to propose to him publicly on Twitter and let the world know of her true love.
"Kholi marry me!!!" she said.
Kholi marry me!!!

— Danielle Wyatt (@Danni_Wyatt) April 4, 2014
Danielle even went defensive when she was made aware of Virat's romantic link-up with Anushka Sharma. She refuted bluntly. That's what we call, true love!
"@bhaviknz: @Danni_Wyatt he is booked to bollywood actress @AnushkaSharma" nah he ain't

— Danielle Wyatt (@Danni_Wyatt) April 4, 2014
Looks like the match is made in heaven with both Virat Kohli and Danielle Wyatt playing the same game (no pun intended!) They would make quite a compatible pair!
But if Virat Kohli responds to this marriage proposal, it is surely going to break quite a many hearts that would also include his rumoured lady love Anushka.
Marriage or no marriage, this proposal has certainly stirred up Virat's popularity and his personal life!