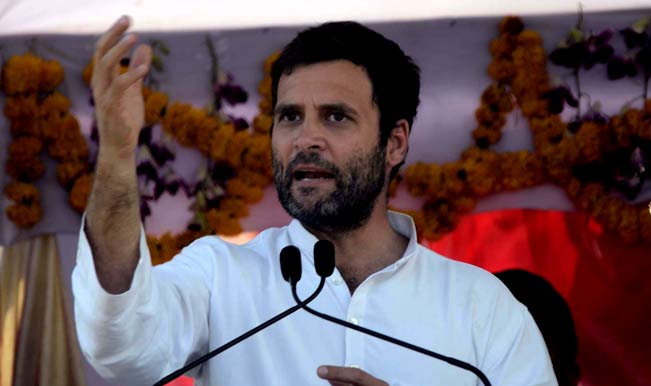 BJP's stand on graft an eyewash: Rahul Gandhi
A thin crowd welcomed Congress vice-president Rahul Gandhi at Panipat Sunday where he launched a scathing attack on the BJP over its "double-standards" towards corruption and the attempt to "divide the society on communal lines".
Development is fine but our leaders became inaccessible, admits Rahul
Campaigning in the national capital reached fever pitch on Sunday — just three days before polling for the Lok Sabha elections. Top leaders from the Congress, BJP and Aam Aadmi Party (AAP) addressed rallies across the city in their last bid to draw voters before campaigning ends.
In Delhi, Congress braces to defy AAP effect
The last time Congress vice-president Rahul Gandhi addressed a rally at Dakshinpuri in South Delhi was about five months ago ahead of the Assembly elections. Then most people left the venue even before he got up to speak.But with just a day to go for the Lok Sabha elections, Mr. Gandhi again chose the same platform on Sunday to air his views, sending out a clear message that the party has not been unnerved by last year's defeat and is in a mood to combat.
No 'Modi wave' in Kerala: Antony
Defence Minister A.K. Antony has said that he has not seen the so-called 'Modi wave' in any part of Kerala.Addressing a meet-the-press programme at the Pathanamthitta Press Club on Sunday, Mr. Antony said a section of big corporate companies were active because of Gujarat Chief Minister Narendra Modi's influence. The Rashtriya Swayamsevak Sangh (RSS) and the Sangh Parivar were openly spearheading the election campaign of the BJP.
Polls are an acid test for Tarun Gogoi
Given the perceived BJP wave and dissidence within the ruling Congress in Assam, it will be an acid test for chief minister Tarun Gogoi as the state goes to polls in the first phase.The Congress has been in power in Assam since 2001 and hasn't lost a single election ever since. Despite that the party, possibly, has huge challenge.