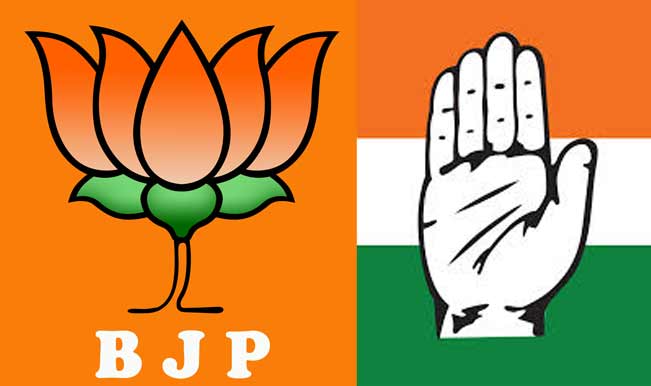 CVOTER has released its latest state by state projection for all parties across the country. Let us see how many seats is projected for which party.
1. Seemandhra- Starting with Seemandhra which consists of a total of 25 seats, BJP led NDA seems to be getting 8 and YSR Congress are going to capture on the rest of 17 seats. Surprisingly not a single seat to INC or any other party.
2.Telangana- Out of 17 constituencies, TRS is the top choice of voters with a projection of 13 seats in their box, 2 seats for the Congress and one each for BJP and AIMIM.
3.Arunachal Pradesh-A small state sharing just two seats in the Parliament is projected to give one each to BJP and the Congress both.
4.Assam- The 14-seated state sees a stiff contest between the Congress and BJP. The projections say that Congress will take a lead here by winning 7 seats and BJP will have to manage with 5. Rest of the two seats will be shared between two small regional parties i.e AUDF and BPF.
5.Bihar- The second most important state with 40 parliamentary constituency shows a lead for BJP led NDA with 23 seats in their box, RJD and Congress coalition seems to be getting 12 seats and a big blow for JD(U) with just 5 seats for them as per projections.
6.Chhattisgarh-The state has 11 constituencies, with BJP and Congress the only key fighters the projections show 8 seats for the BJP and 3 for Congress.
7.Goa- A small state with just two constituencies. One each will be shared between Congress and the BJP.
8.Gujarat- The BJP dominated state with 26 seats looks in no mood to betray Modi. Projections show a win-win situation for BJP on 23 seats and Congress with 3 seats.
9. Haryana- Haryana which gave Congress 9 out of 10 is showing a new trend this election season. The latest projection gives 6 seats to BJP led NDA (including 1 seat of HJC) , 2 to Congress and 1 each to newly entrant AAP and the old guard INLD.
10.Himachal Pradesh- The state sends 4 parliamentarians to Lok Sabha. The projections show 3 of them will be from BJP and one from Congress.
11.Jammu & Kashmir- The state has 6 parliamentry constituencies and according to projections BJP will manage to win 2 seats , Congress in coalition with National Conference will win 2 (one each) and PDP has 2 seats in their share.
12. Jharkhand- The state has 14 seats in total out of which 8 seats is projected to be won by BJP, 2 seats each by the regional parties JMM and JVM and just 1 seat by the Congress.
13. Karnataka- The 28-seated state has been loyal to BJP on many ocasions. This election too shows a lead to BJP in the state with 15 seats, whereas Congress is too looks nearby with 11. The rest 2 seats are projected to be captured by the regional player Janta Dal (secular).
14.Kerala- The state consisting of 20 constituencies is said to be a strong hold of Congress and the left party. The projections also show that the voters are stuck to their previous choice by giving 9 seats to Congress and 8 seats to the left party. Whereas the local parties like IUML and Kerala Congress  will be getting 2 and 1 seat respectively.
15. Madhya Pradesh - Madhya Pradesh has 29 constituencies and it's a BJP dominated state right now.The projections show almost a clean sweep for BJP with 26 seats and the Congress limited to just 3.
16.Maharashtra- The big state with 48 constituencies is one of the most decisive state for the leading parties. The seat projections so far show 13 seats to UPA and 31 seats to NDA. MNS and AAP will share one seat each and another regional party Swabhimani Paksha will manage to get 2 seats.
17. Manipur-Yet another small state with two seats in hand. Congress is projected to get one while the other one will be captured by others. No scope for BJP here.
18.Meghalaya- The 2 seats will be shared equally between Congress and regional player Nationalist Peoples Party.
19. Mizoram- The state with a lone constituency will offer this only seat to Congress, most probably.
20. Nagaland- With just one seat in hand to offer, the state voters are most likely to go with their local leadership Nagaland Peoples Front.
21. Orissa- Out of a total of 21 seats, voters of this state are going to give 13 seats to Biju Janta Dal, 5 to Congress and 3 to the BJP.