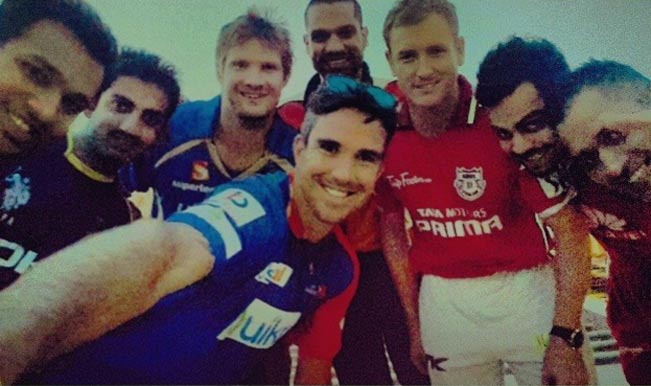 One after the other, selfie fever grasps all. Be it the starlit red carpets or the inauguration of the sporting events, posing for selfie has become a norm. Delhi Daredevils Captain Kevin Pietersen seemed to have struck the liking for selfies, as he makes sure to add one more memorable snap to his collection. South African born Pietersen made all the IPL 2014 captains pose for a nice selfie and kick start this IPL 2014.
Kevin Pietersen tweet the all IPL 2014 captains selfie writing 'IPL captains'.  From the left to right stood the captains Rohit Sharma (Mumbai Indians), Gautam Gambhir (Kolkata Knight Riders), Shane Watson (Rajasthan Royals), Shikhar Dhawan (Sunrisers Hyderabad), George Bailey (Kings XI Punjab), Virat Kohli (Royal Challengers Bangalore), Mahendra Singh Dhoni (Chennai Super Kings) with Delhi Daredevils captain Kevin Pietersen in middle with all smiles.
Quite a fun to watch the spirit of these captains on top as these players are not only leading their respective sides but also are brand ambassadors of leading the game fairly. Well we could also not help but say Cheese to these captains before they take on each other in IPL 2014.
IPL captains #selfie pic.twitter.com/eW4RREI0Xo

— Kevin Pietersen (@KP24) April 16, 2014