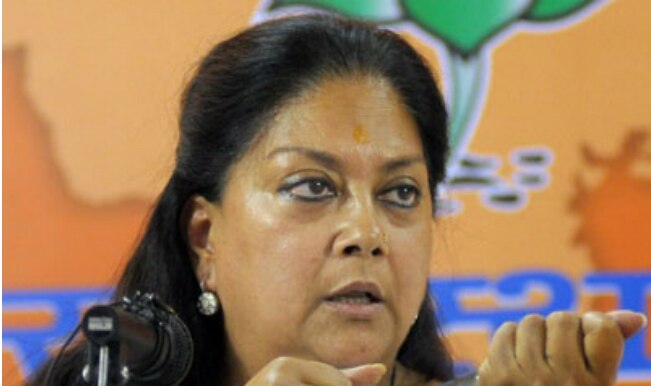 It was in the 1989 election, when BJP whitewashed the Congress bastion in all the 25 seats of Rajasthan. After its more than impressive performance in 2013 assembly polls, the mood for the Lok Sabha election might turn in favour of the BJP.
With the rise of Anti Congress wave and post Bhawari Devi Kand incident, Congress was limited to only 21 seats in Rajasthan assembly polls in December 2013.
Thus, it seemed that winning all 25 Lok Sabha seats in Rajasthan would be a cakewalk for BJP. But post-assembly polls development suggests that BJP has wasted that opportunity. Vasundhra Raje's Mission 25 is now in a state of disarray.
In Barmer, BJP could have a smooth ride, but sidelining a long time leader and offering a ticket to Congress MLA who had joined the BJP three days before being chosen the party candidate from the seat might prove to be a disadvantage. Barmer would be an important seat for Jaswant Singh who enjoys the support of Rajputs, Muslims and other castes in Barmer.Congress has reposed faith in Harish Chaudhary from politically important Barmer.
The BJP may feel the heat in western Rajasthan constituencies as well. In Sikar, fielding an 'outsider' Baba Sumedhanad on the recommendation of Baba Ramdev, and denying ticket to the former Union Minister Subash Mahariya and three time Sikar MP might prove costly.
In rural Jaipur, Olympic medal winning ace shooter turned politician Rajyavardhan Singh Rathore of the BJP is pitted against former Union minister CP Joshi of the Congress. Joshi has shifted his constituency this time. According to ground reports, he is on a weak wicket.
In Jhalawar, Chief Minister Vasundhara Raje's son and sitting MP Dushyant Singh is contesting against the Congress candidate and former minister Pramod Jain Bhaya. Since he is Vasundhara Raje's son, he has a natural advantage. Local analysts feel that it is a sure seat for the BJP. Hadoti is the region where BJP won 14 out of 15 seats in 2013 assembly polls.
Veteran Congress leader and Union minister Girija Vyas is seeking one term from Udaipur. She is facing the tough fight this time. Since it closer to Gujarat, there is a big Modi wave.
Traditionally Ajmer has been the stronghold of the Congress party. In 2009, Sachin Pilot broke the trend after his family stronghold in Dausa. But last year's assembly polls have changed the course of the wind in the favour of BJP. All the eight Vidhan Sabha constituencies are won by BJP this time.
Fifteen seats including Jaipur, Ajmer, Banswara, Bhilwara, Bikaner, Chittorgarh, Jhalawar, Jodhpur, Pali, Rajsamand, Udaipur and Kota are witnessing a direct contest. However, Barmer, Churu, Jhunjhunu, Ganganangar, Jalore, Nagaur, Sikar and Jaipur-rural are witnessing a triangular or multi-cornered contest. Parties such Bahujan Samaj Party, Zamindar Party, AAP, National Peoples Party and Rajasthan Loktantrik Party are also in fray in Lok Sabha Election 2014.
Twenty out of 25 Lok Sabha seats in Rajasthan are voting tomorrow along with Karnataka, Tamil Nadu, Odisha, U.P, M.P. Manipur, West Bengal, J&K and Maharashtra.