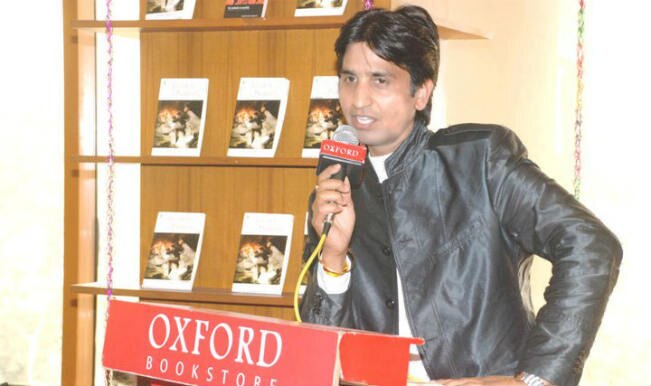 Without doubt, Indian politics is at its sensational best with the nation almost midway into the poll season. Political parties, their supporters and the media are putting their best foot forward to make sure every minor detail gets hyped into a major one.
Amongst the parties, the Aam Aadmi Party acknowledging the flavor of the season has turned the political power play into one mudslinging match. (BJP and the Congress, fret not! You guys have contributed equally well too) Kumar Vishwas especially, seems to have left his thinking pants at home (for cleaning maybe?) while rallying across his constituency.
No doubt, he needs all the publicity he can get – positive and negative since he's pitched against India's favorite Bahu – Smriti Irani and Congress' prime ministerial candidate – Rahul Gandhi. But spewing venom left, right, and center without thinking twice about your target is a novelty – even for a candidate of AAP whose Delhi debacle resulted in the capital coming under the President's rule. Here are some of his statements that rocked the nation; not because they provoked deep thought but they truly left us wondering the state of the already impoverished Amethi, if he came into power.
"… hospitals had earlier dark-skinned nurses and one would be forced to call them sister. Many of them (Kerala nurses) were reluctant to give their photo in bio-data. Whereas now, hospitals have good-looking nurses from North India. When they enter the hospital after applying perfume, even those who are not sick would think about getting admitted in hospital."
Maybe this was his idea of wit and humor a few years back when he was giving a speech at the National Institute of Foundry and Forge Technology, Ranchi. But we do hope he has overgrown the stage of employing racist humor to gather a crowd, because we are really not amused.
If this was not all, he had attacked his opponent Smriti's ethnicity by issuing a statement claiming whether an Irani or a Pakistani, Amethi had already made its decision to choose correctly (Read : HIM). For a candidate whose father doesn't believe he'll win, Mr.Vishwas is one hell of a confident man. Might we say, predicting your own victory before the polls is like counting your chickens before they hatch? Or is being an astrologer another one of his talents – besides being a poet of course.
How can we forget his volte face (Or faces?) with respect to forming a coalition with either of its opponents? What happened to the AAP's stand on corruption rampant in BJP and Congress? Or has Mr. Vishwas switched to the BJP for good with his open admiration of the RSS – a party even Narendra Modi chooses to ignore, despite his associations? Or is it new found admiration in the wake of all the things that might go against him?
There isn't a single day when the Aam Aadmi party members choose to let their work do the talking. They harp on other people's failures, while conveniently convincing people that the Delhi resignation was a sacrifice for the "Greater Good" (Yeah right, greater good of contesting the Lok Sabha elections apparently). There is no denial, they have done good work but it really isn't enough! Making water free and electricity cheap is all great as propaganda material, but what about actual governance?
Giving up on its goals, when they could have fought back isn't a sign of sacrifice but that of cowardice, if anything!
Maybe Mr. Vishwas and his party needs to stop focusing on histrionics and get their act together by actually implementing some of their tall promises. He can continue to make audacious claims against his opponents and raving about RSS ideologies, but the fact remains that this election, voters aren't buying into the accusations he (or anybody, for that matter) is slinging at anyone within a one mile radius.