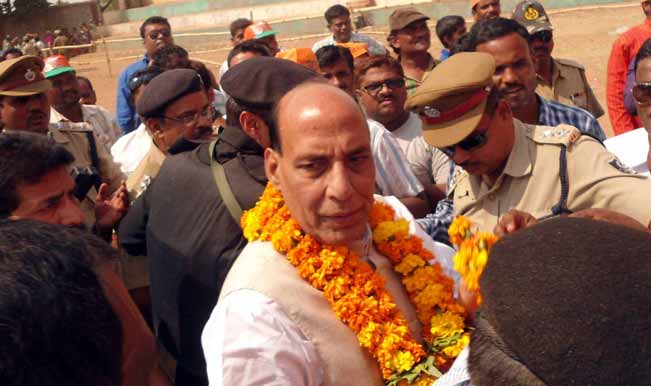 At a time when most of the Muslim organizations and parties have issued statements against the Bhartiya Janta Party (BJP) for their alleged communal approach and their prime ministerial candidate whom many still accuse for not stopping the 2002 Gujarat riots under his government, where more than 1,000 were killed, mostly Muslims.
And then comes a statement from a top Shia Muslim cleric from Lucknow who stated, "We are scared of Modi, but Rajnath Singh has the acceptability of Vajpayee".
BJP party president Rajnath Singh is contesting from the Lucknow constituency in state of Uttar Pradesh, the constituency is a BJP fortress since the 1990s and Atal Bihari Vajpayee, was a five time Member of Parliament from Lucknow and also went onto become the prime minister in 1999 after winning from this constituency.
Maulana Kalbe Jawad praised the BJP president by comparing him to Vajpayee, who is still the most popular name and face in Lucknow despite of not being involved in politics anymore.
Besides Maulana Jawad, Rajnath Singh also met other Muslim leaders from both the Shia and Sunni sects but none of them have issued any statement in favor of the leader or the party. And they have refrained from calling their meetings- a political but rather termed it as courtesy meetings as Rajnath is a well-known face in the city, and also the former chief minister of UP.
A few days ago Maulana Jawad had asked the Muslims and especially the Shia Muslims not to vote in favor of Congress and the Maulana also protested in the national capital against the Congress in a case where a land of a Shia shrine has been encroached and Maulana and his followers have had this long pending request to release the land back to the community.
Now, a friendly meeting with Rajnath and also issuing statement in favor of him, seems like the Maulana is indirectly sending a message to the community of voting in favor of BJP.
Voters are being confused by the tactics of the Maulana who is making conflicting appeals, he has not realized the fact that though Rajnath might be the president, but BJP has already chosen their prime ministerial candidate in-form of Modi, whose image is not very good amongst the large number of Muslim voters in country and the idea of a secular government among the masses is not in the form of BJP.
Uttar Pradesh is India's most electorally vital state with 80 parliamentary seats, which has 20 per cent Muslims, and its capital Lucknow has around 3 lakh Shia Muslims.
Maulana Jawad later went onto to say in an interview to a news channel, that he will keep the opinions of BJP in front of his community and hope that BJP led government might have better Muslim representation on a larger scale. It looks like the Maulana who has been actively involved in religious politics is not aware that BJP have not fielded a single Muslim candidate from the state of Uttar Pradesh.
Uzair Hasan Rizvi is a journalism student at AJK MCRC, Jamia Millia Islamia, New Delhi, India. He tweets @rizviuzair