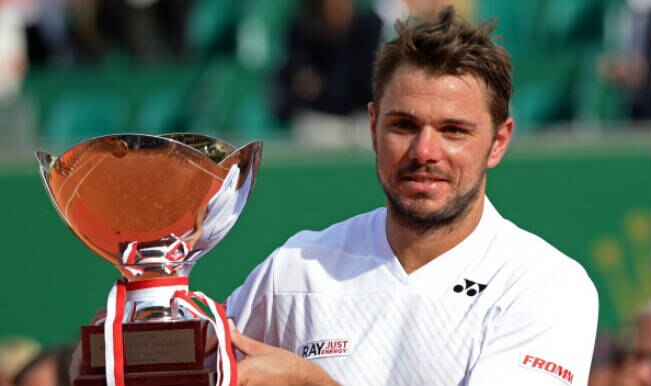 In an all Swiss affair at the Monte Carlo Masters tournament, 2014 Australian Open champion beat the 17 time Grand slam winner Roger Federer to take the first Monte Carlo Masters title . Showing some great display of action on the court, Stanislas Wawrinka defeated Federer 6-4, 7-6, 6-2 to acknowledge his well deserved Swiss No. 1 title.
Roger Federer leading 13-1 against Wawrinka coming into this match took advantage of Wawrinka's string of unforced errors. Stanislas Wawrinka found himself under pressure by Roger Federer's well executed selection of shots and rallies. Wawrinka was quickly downed by Federer in tipsy-topsy opening set, that the latter won 6-4. Federer looked in great shape with 71 per cent of first serve with Wawrinka with 61 per cent of the first serves coming in for him.
The World No. 3 Wawrinka had been on a roll this season came back strongly in the second set to level the match with a near flawless tie-breaker, taking it 7-6(7-5).  In this first all Swiss final since 2000 at this venue, Stanislas made a match with his powerful shots in the second set.
The third set was more of one man show and that was Stanislas Wawrinka who came strongly in the second set and swept aside his opponent in the third.  He quickly ran over Federer to take a massive 4-1 lead to silence the crowd. They had already seen their favorites in form Rafael Nadal and Novak Djokovic lose in earlier rounds. At the end only formalities were left to be completed, with Wawrinka claiming his first title at Monte Carlo. Ironically Stanislas Wawrinka's only win against Federer came at this same venue in 2009.  And the beautiful history repeated for itself for Swiss No. 1 – Stanislas Wawrinka.