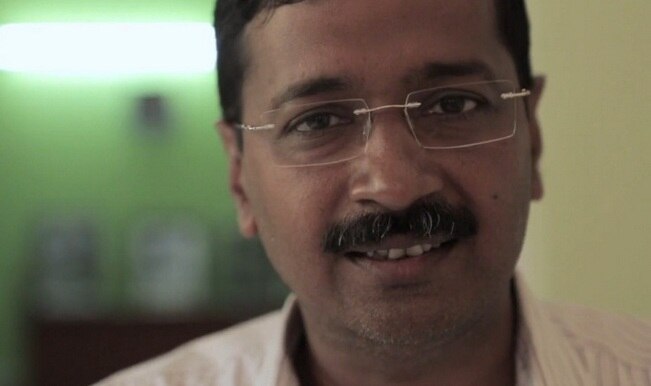 While seeking votes for Kumar Vishwas in Amethi, Arvind Kejriwal couldn't hide his despair and went on to the extent of advising people to accept all what is offered to them by his opponents in the need for votes.
He told them to accept cash, clothes or whatever. In remarks that could fall foul of the Election Commission, Aam Aadmi Party leader Arvind Kejriwal advised Amethi residents to accept bribes given to them by political parties but vote for 'jhaadu'.
Speaking at a public meeting in the congested Shukla Bazaar area of Raniganj, Kejriwal, who is on the second day of his road show in the Gandhi bastion, said, "Elections are here. They will offer you cash, take it. It's your own hard earned money that they looted in the 2G and the CWG scam. Take the sarees and blankets they offer, take it all. But don't vote for them. Vote for the jhaadu."
Kejriwal's strategies and statements might cause confusion among his own voters. A person who is a self-proclaimed Gandhian turns into a revolutionary, then calls himself an anarchist and now a leader who teaches the voters to accept bribes.
The biggest icon of the anti-corruption movement in India after Anna Hazare, Arvind Kejriwal has always introduced himself as an honest leader who has entered the politics with a cause, and at numerous occasions he has assured the people that his style of politics would be different from all other traditional parties.
First he suggests, that the people of Delhi bribe the government officials and make a 'setting' with them, and then conducts a sting, now taking this further he tells the innocent 'Aam janta' to accept bribes offered to them by his counterparts. The people might follow the words of a leader blindly as they mistakenly think their leaders to be more intellectual people than them.
Kejriwal has perhaps forgotten that accepting and offering bribes both is considered as an anit-law activity and thus teaching a crowd to follow unfair practices should not be in the list of strategies for a leader like him. A leader whose only USP this elections is his clean image, anti-corruption movement and an all inclusive involvement of people in governance, delivers such kind of irresponsible statements in public and still flaunts his Gandhian image with utmost confidence.
Did Gandhi ever try to persuade people like Kejriwal is doing? Did he ever teach any of his followers to be corrupt even for a good cause? The answer is obviously a big 'NO'.
So, as the elections are proceeding towards its end, Kejriwal's desperation to attain power is coming into light through one incident or the other.
Politics is something, which has changed many, and Kejriwal is no exception to that. His style of attacking his opponents continuously that too without any facts or evidence has made him stand on the same stage his opponents are sitting on.
AAP's chances of performing well and getting good numbers are already very thin and it would be better for Kejriwal to go for a strategy review rather than jumping like a ping-pong ball.