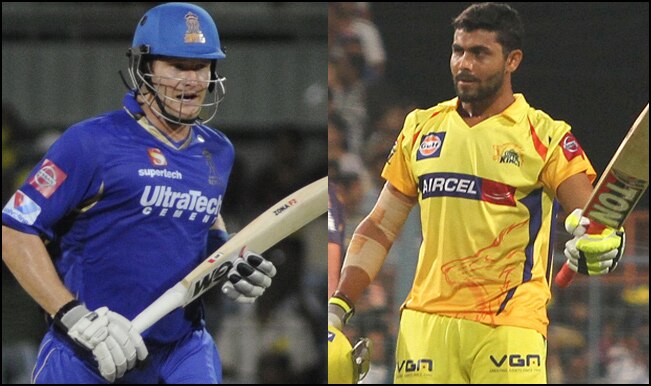 Chennai Super Kings and Rajasthan Royals have been champion sides in the past with the former team lifting the trophy twice in 2010 and 2011 while the latter has won the inaugural edition. Coming into the IPL 2014, both the teams will know the reasons that fetched them the winner's trophy – the presence of good all-rounders in the side. Talking of the all rounders, who better than Ravindra Jadeja can describe the situation better. He is one common factor between the two sides as he was an integral part of both the teams.
Both the teams having lost their match to the magic of Kings XI Punjab's Maxwell and Miller pair, will face each other in their third match at Dubai International Stadium. The two sides Chennai Super Kings and Rajasthan Royals would have their eyes fixed on the two players – Ravindra Jadeja and Shane Watson. On one hand Ravindra Jadeja has been more utilized as a bowler, courtesy the great batting line up of CSK with the likes of Brendon McCullum, Mahendra Singh Dhoni, and Suresh Raina. Well on the other hand is Shane Watson who is leading the RR side and had shown great batting prowess against Kings XI Punjab when he post a brilliant half century to take his team's total high.
Both Ravindra Jadeja and Shane Watson are batting all-rounder and seem to be in great touch. One would really expect to see these former team-mates battle it out. It will be interesting to watch Ravindra Jadeja bat as the spectators miss out the mighty sixes he is known for as for Watson some quick scalps in the beginning will set the match up.  With a win and a loss respectively in their first two matches, Chennai Super Kings and Rajasthan Royals look even-steven coming into their third match.