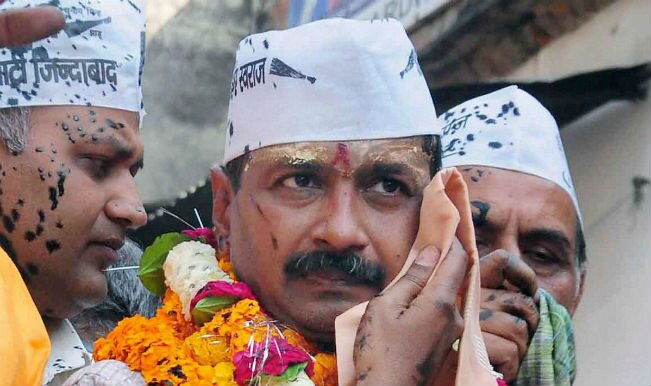 Aam Aadmi Party (AAP) leader Arvind Kejriwal, filed his nomination papers from Varanasi today facing a stiff challenge from BJP's Prime Ministerial candidate, Narendra Modi in the most high-profile face-off of this election season.
While most of the poll surveys are suggesting a clear BJP victory in the Lok Sabha elections, in Varanasi, it does not matter if Kejriwal wins or not, it is important to oppose Modi and Rahul Gandhi and the ideological framework on their political parties.
In just over a week's time, around 40,000 calls have been made by AAP supporters in Varanasi and Amethi to convince them to vote for AAP. The unique model of campaigning via calls has given a chance to thousands of AAP supporters to connect with the common man of India at an inter-personal level and share their problems and expectations from the leaders.
This idea of equipping the supporters with a chance to do more for voters without taking a bribe in the form of money, freebies or alcohol has broken the way India goes to elections. On the contrary, Congress and BJP have hardly considered their supporters an asset that can help them build election campaigns without bribing them in the name of religion, money or development.
His focus on addressing small gatherings over large rallies with question and answer sessions have given the voters a chance to interact personally. The image of a larger than life leader often leads to unrealistic impressions and expectations and that is what the Congress party and BJP have been striving on so far. In India, most politicians are feared by the public when it comes to asking the right questions because the wrath of the politicians seems greater than their actual work.
It is this very nexus of corruption that Arvind Kejriwal wants to break in Indian politics. However, the people of Varanasi have been benevolent hosts in showering Arvind Kejriwal with ink, eggs and stones. In a place that is set to let Modi win, Kejriwal has chosen to face his toughest challenger than contest from another constituency and has taken the tough risk of door-to-door campaigning.
In the holy heartland of the country, Kejriwal is not just convincing the minorites to vote for him without appeasing them on cultural polarisation like the Congress party does, but he has also promised a manifesto for Varanasi that will tackle the problems of the weavers, Ganga, infrastructure and electricity. Like he has said in his speech before, Modi might desert Varanasi after his win.
It is important because he could have played it safe and stood from a seat which was more secure, but by challenging Modi, he has challenged the ideas of crony-capitalism, communalism and corruption.
And it is just not about one leader opposing another, Arvind Kejriwal's team is of eminent people like Yogendra Yadav, Meera Sanyal, Medha Patkar speaks a lot about the way in which they will bring about a cleaner political system that is reflective of merit as opposed to the politicians who are riddled with scams, scandals in the BJP.