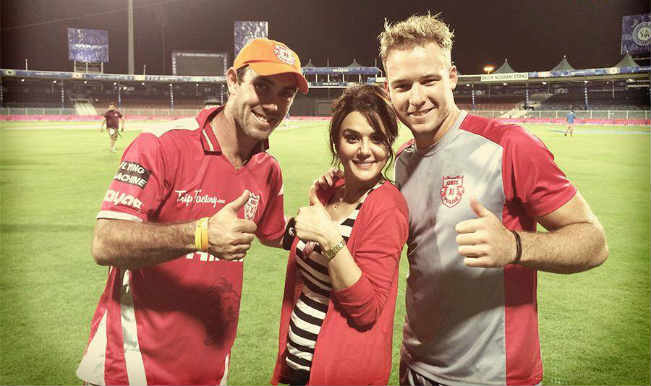 Kings XI Punjab owner Preity Zinta must be one happy soul on this earth. Well it might sound exaggerated, but anything less than this description might be seen as understatement. The dimpled beauty is enjoying success after a long time and she has to credit her team Kings XI Punjab exceptional performance in IPL 2014. Preity Zinta seen in this picture with the heroes of her side – Glenn Maxwell and David Miller, is gleefully smiling for the perfect snap.
Kings XI Punjab has shown some tremendous form and is on an unbeaten winning streak of four matches. They have trounced Chennai Super Kings, Delhi Daredevils, Sunrisers Hyderabad and Kolkata Knight Riders. Preity Zinta who has been a firm supporter of Kings XI Punjab side is always seen cheering her boys from the sidelines. One of the least wealthy franchise owner with net worth of mere 183 crores compared to Mumbai Indians owner Mukesh Ambani's 1.29 lakh crore, Preity Zinta is definitely miles ahead when it comes to winning ways.
Back on Twitter, Preity Zinta is leaving no stones unturned to support her match heroes – Glen Maxwell impeccable run at IPL 2014. On several occasions, she tweeted over the match and her players.
Alright folks here is @Gmaxi_32 ! U all can tell him yourself what it felt like watching him in action. 4me it was Awesome Ting ! Ye ha!

— Preity zinta (@realpreityzinta) April 22, 2014
Yeahhhhh !!! Another WIN ! Orange cap & purple cap now proudly sit at the @lionsdenkxip @DavidMillerSA12 @Gmaxi_32 awesome !!! Ting !

— Preity zinta (@realpreityzinta) April 22, 2014
Preity Zinta also highlights the happy space the team is in. It is brilliant to watch the owner and the side in happy state of mind. Coming into the seventh season of IPL 2014, Kings XI Punjab are touted to be one of the strongest side to win the title. Well looking at the team spirit and Preity's superb support, it does not look a hefty task for the Punjabi boys.
Now that's what u call a happy team bus! Let's see who can name all the people in the photo! Bring it on! #lionsden pic.twitter.com/vx4AHRrKMU

— Preity zinta (@realpreityzinta) April 22, 2014