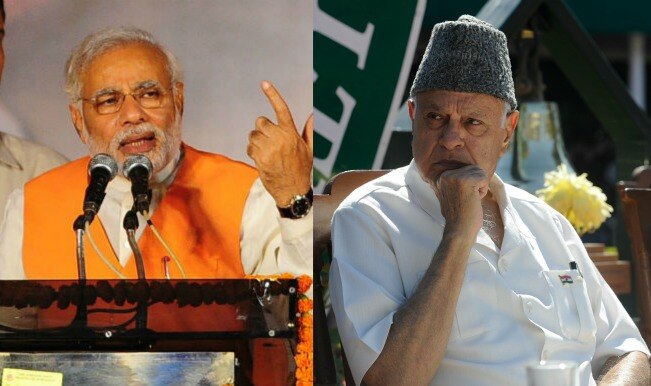 In the wake of Farooq Abdullah's remark, BJP Prime Ministerial candidate Narendra Modi released a video where he clarifies the BJP's stand on secularism. He takes a dig at Abdullah's personal remark where he said- "Those voting for Modi should jump into sea."
"If someone is to drown, then go look at the face in a mirror. Put your father's picture in front of a mirror and ask with what face, those who have thrown out the Kashmiri Pandits can talk about preventing regionalism," Modi said in an interview.
"These words do not suit him. We are silent but it doesn't mean that you keep damaging the secularism that has prevailed in the country for thousands of years," he said. He said that the party would never deviate from its stance on secularism and ensuring inclusive growth.
Abdullah during a rally yesterday had taken a dig at BJP leader Griraj Singh and VHP's Praveen Togadia, saying "They say those who do not vote for Modi should go to Pakistan. (I say) Those who vote for Modi should drown in the sea."
Modi said that the element of secularism is ingrained in the Indian tradition and it was not shaken by such statements. "If we are to consider the biggest damage to this secularism that has been there for thousands of years, it took place in Kashmir. And that too, during the tenure when Farooq Abdullah's father was the chief minister. It has taken place during your tenure as Chief Minister and during your son's tenure. Kashmir is the only state in India where Pandits were removed purely on the basis of religion" Modi said.
It isn't clear as to why Modi decided to go after senior Abdullah when he has often let others' knee-jerk reactions in his speech unaddressed. Modi did not speak out after Giriraj Singh's comments went viral either, and only rebuked VHP leader Pravin Togadia on Twitter.