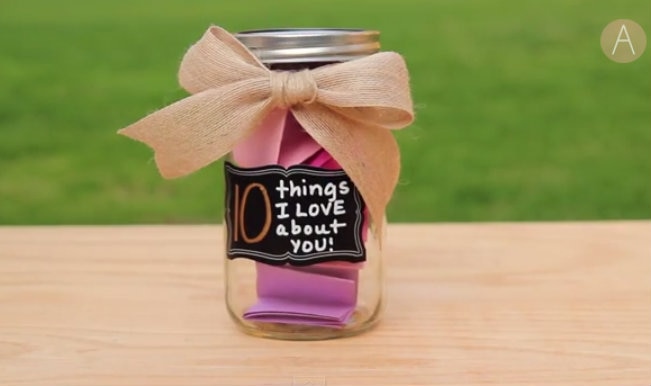 This video will show you how to make an easy, thoughtful and affordable DIY gift idea on Mother's Day! This present would be appreciated by any mom since it is a simplistic display of love; a jarful of your feelings. All you need is a Mason jar, cards or papers of different hues, markers, label, ribbon and a pen.
Go ahead and write something you like about your mom, it could be something heartfelt, or a compliment or even a happy memory that you shared together. Once you are done jotting down, fold the chits into halves and set them aside.
The next step is to decorate the jar, get some fancy labels and write down '10 THINGS I LOVE ABOUT YOU' on the jar. Go ahead and put all the notes in there and place the lid. Wrap a ribbon round the neck of the jar. And you are all done!
The whole project is very fast to pull together. Go ahead and give it a try, for your mom! Watch video below to see how it's done.