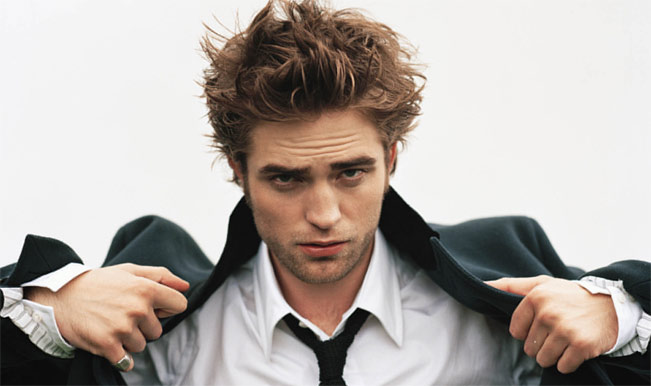 English actor and model, Robert Pattinson born on 13th May, 1986 celebrates his 28th birthday. Known especially for his role as Edward Cullen in The Twilight saga movie, he has successfully established himself among the highest paid and most bankable actors in Hollywood. He was named one of TIME magazine's 100 Most Influential People in The World. Girls of all ages swoon over the handsome hunk.
Take a look at top ten things that you may not have known about him and get to know him a little better :
10. Pattinson began modelling at the age of 12. He believed that he use to look 'unbearably awkward' and that he had the most unsuccessful modelling career which later dropped down due to his manly appearance. He has even done 'butt – modelling.'
9. Rob's two older sisters, Victoria and Lizzie, used to dress him up as a woman named Claudia when he was 12.
8. His first kiss was also at the age of 12.
7. His audition for the role of Edward Cullen, a century-old vampire in love, took place in the bedroom of the movie's director Catherine Hardwicke. Pattinson immediately impressed both Hardwicke and his future co-star, Kristen Stewart, with his performance.
6. After he was announced as Edward Cullen, some 75,000 people signed a petition against him taking the role, saying they felt he wasn't right to play the character from the popular books.
[Also Read: Kristen Stewart's 24th birthday: 24 lesser known facts about the Twilight star]
5.  Robert was once in a band called Bad Girls with his "first girlfriend's [then] current boyfriend."
4. Pattinson is a terrible driver. He had said that his father was a car dealer from the UK and he grew up in London so he didn't need to drive. It was only recently that Rob learned how to drive.
3. He is a great musician as well.  He plays the piano and guitar, and in fact, one his songs were featured in the first Twilight movie. Director Catherine Hardwicke said his music made her cry because they were so moving.
2. He is a big Marlon Brando and Jack Nicholson fan.
1. He's involved in several charity projects. Pattinson supports and promotes the ECPAT UK's campaign Stop Sex Trafficking of Children and Young People to stop human trafficking. In 2010, he participated in charity telethon Hope for Haiti Now: A Global Benefit for Earthquake Relief.
Robert Pattinson was recently photographed filming scenes for his forthcoming movie in Los Angeles which is reportedly going to be released next year. We shall also be seeing more of him in movies like The Rover and Queen of the Desert.