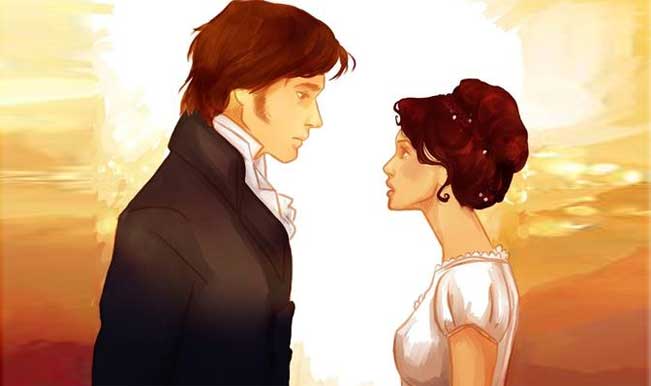 'In vain I have struggled. It will not do. My feelings will not be repressed. You must allow me to tell you how ardently I admire and love you.' Elizabeth's astonishment was beyond expression. She stared, coloured, doubted, and was silent. This he considered sufficient encouragement, and the avowal of all that he felt and had long felt for her, immediately followed. He spoke well, but there were feelings besides those of the heart to be detailed, and he was not more eloquent on the subject of tenderness than of pride.
It has been over 200 years since the first time Mr. Fitzwilliam Darcy was introduced in Jane Austen's Pride and Prejudice in 1813, and yet his popularity among the ladies refuses to die down! So what made him so desirable? Was it his raw pride or his soft heart enveloped with his stern personality? Let us agree, each one of us girls had our little crush on this fictional character.
It is widely rumoured that Mr. Darcy's character was inspired from Jane Austen's real-life incomplete love affair with an Englishman, making us believe in the existence of such a person all the more. The author beautifully described the character as a 28-year-old handsome man with a huge lakeside country estate in Pemberley. Handsome and rich – a rare but perfect combination.
But what really makes women draw towards him is his unavailability. He is like a trophy; whoever wins him has to be very special. This makes girls chase him. Shown as the tough, arrogant guy who does not bow down to anyone but the leading lady Elizabeth Bennet, makes every girl swoon overhim.
The novel has been published, recreated over celluloid many times, enacted on stage and followed again and again over the years. The sizzling chemistry between the high-headed Mr. Darcy and the equally confident Elizabeth has become a part of our culture. Each one of us somewhere symbolises either of the two or at least aspire to.
There is a crazy fan following of Mr. Darcy's character with people forming fan clubs where he is idolised. His iconic movie stills also set our heart racing and makes us fall in love again! Be it Colin Firth's coming out of the lake in a wet shirt in the 1995 Pride and Prejudice (TV Series) or Matthew Macfadyen charming his way into the female audiences' heart in Joe Wright's 2005 movie of the same name. We loved them all. Was it really for the actors or the character 'Mr. Darcy' we cannot get over?
It is better to love the character, but waiting for your life to look like a novel is not advisable. But whatever it may be, Mr Darcy remains one of the most memorable parts of our growing up!