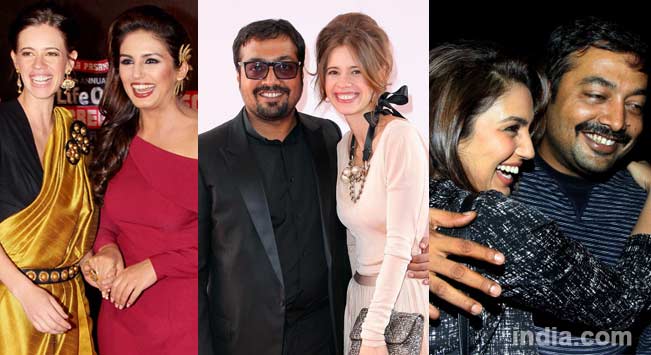 Bollywood is famous for orgies that people talk about in hushed tones. We wonder if the hottest new threesome in town involves writer-director Anurag Kashyap, his separated actor-wife Kalki Koechlin and his alleged muse, actor Huma Qureshi. B-town sources say Huma-Anurag have been an item since the filmmaker gave her a big break in Gangs of Wasseypur. Soon after, rumours of Kalki, Anurag's second wife, splitting with him surfaced. Many denials later, that's what exactly happened.
But Kalki denied Huma had anything to do with it and, in fact, was great friends with her. Recently, she is even said to have attended the screening of Huma's film Dedh Ishiqya to support her.
Two days ago, the paparazzi spotted Anurag and Huma hugging it out and looking quite like a pair at the screening of American Hustle. Grapevine was working overtime again. The affair was dismissed as a rumour yet again, with Huma, Anurag and Kalki issuing boring statements.
Hmm. We wonder how much truth there is to these statements, as some things that the eye can see cannot be denied. Is this is a great Bollywood romp happening between the three people? Mental or physical, we don't know yet. Not that we object to it. It's their life, after all.
But a few questions come to mind. Is it that Huma completes the circle for Anurag and Kalki, as happens in the Woody Allen movie Vicky Cristina Barcelona? Is the Dedh Ishqiya star helping them out to clear their marital strife? Is she intimate with both and helping them connect after, as Anurag says, communication problems with Kalki?
"People run only one-sided story and it's very disturbing. Such rumours are not affecting me or Kalki but it is affecting Huma's image. Huma is being targeted," said Anurag. Kalki too sympathised with Huma, saying we should "leave her alone".
And what did Huma say in her statement? "I am friends with both Anurag and Kalki. A few days ago, when Kalki came for the premiere of my movie, we hugged each other warmly. It's surprising that me (my) hugging Kalki doesn't get noticed by people, but when I meet Anurag, we are having an affair?!"
Ahem. Is she suggesting we say she has a thing for Kalki? Well, it looks like both Anurag and Kalki are pretty fond of the Delhi girl, and she reciprocates. Which made us ask the question in the first place – are Anurag Kashyap, Kalki Koechlin and Huma Qureshi having a threesome? Answers, anybody?
Disclaimer: This story is a piece of satire and should be taken with a pinch of salt!