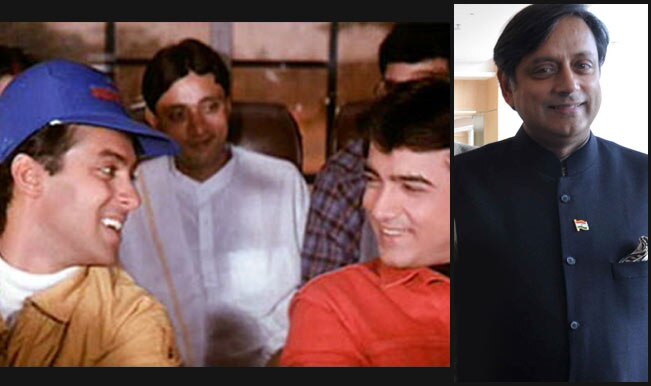 Shashi Tharoor and controversy go hand in hand. Time and again the Congress leader has landed in trouble for making silly statements. He is best remembered for his 'cattle class' statement which is how people now remember the minister.
@KanchanGupta absolutely, in cattle class out of solidarity with all our holy cows!

— Shashi Tharoor (@ShashiTharoor) September 14, 2009
Next was his alleged 'guest appearance' in cult comedy Andaz Apna Apna. Once again Twitter was abuzz and he had to deny it.
@kaeyankur how many times must I repeat that I did not appear in Andaz Apna Apna or any other movie!? I was working at the UN from 1978!

— Shashi Tharoor (@ShashiTharoor) January 26, 2012
This time, however, it is quite serious as it is his wife Sunanda  who has taken the micro blogging site route to settle scores with the alleged other woman in the minister's life. She posted from her twitter account tagging the Pakistani journalist Mehr Tarar. Sunanda alleged that Mehr was stalking her husband.
Or perhaps to build up twitter followers thats a cheap thing 2 do ask the Pakistanis what they think of her & yes 20 calls a day is stalking

— SunandaPTharoor (@sptvrock) January 16, 2014
Soon after Shashi Tharoor realised messages being posted from his id for the other woman in his life, he distanced himself like a good law abiding citizen.
Sorry folks, my @Twitter account has been hacked & will be temporarily deactivated. Bear with me while we solve this.

— Shashi Tharoor (@ShashiTharoor) January 15, 2014
Little did he realise that who drama was happening in his own backyard and directed by his wife. Looks like better sense prevailed and the wife posted a lovey-dovey message for the world.
Alas there is no trouble in the paradise and all is well with between the MP and his wife.
for her information Shashi an& I are very happy together sad for her to know i guess i get sick and go away 4 treatment &the vultures pounce

— SunandaPTharoor (@sptvrock) January 16, 2014

But it is far from over. Mehr posted another tweet.

The wife trashed the husband. Now doing WTH damage control. Isse kehte hain apne hee giraate hain nashemaan pe biljlian….

— Mehr Tarar (@MehrTarar) January 16, 2014

Watch this space for more on this latest drama as it unfolds on the social media.