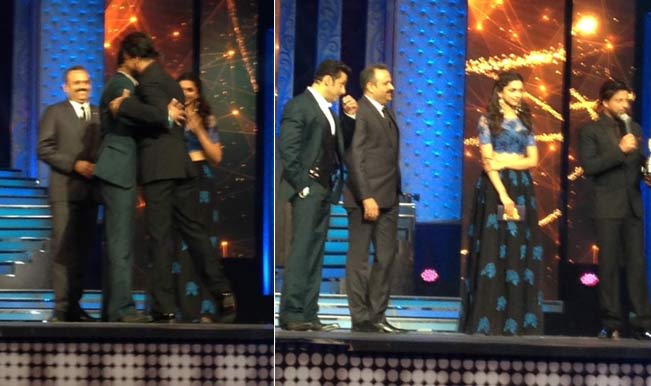 Salman Khan and Shahrukh Khan don't fail to surprise us. They keep fighting with each other, playing hard-to-get for each other and then they go on and surprise fans and the media with yet another impromptu hug at the Star Guild Awards 2014.  Really, the status of their relationship keeps us puzzled – 'It's complicated'.
After their famous jadoo ki jhappi at Baba Siddiqui's Iftar party a few months ago, Salman had said that he hugged Shahrukh out of courtesy. SRK and he will never be friends again, he went on to say.
On Koffee With Karan's new season's first episode, apart from Salman's virginity claim, the most discussed thing was what he spoke about Shahrukh. Sallu had said something to the effect – 'He passes my house several times a day, he could stop by and knock on the door'. To which SRK had replied that he has better things to do than knock on Salman's door.
We wonder if Shahrukh has conceded defeat now gone and rapped on Salman's main door at his Galaxy Apartments flat. Is it that SRK wants to jump in on the super success of Salman in the last few years?
Their newfound bromance has completely left us wondering what's in store. Salman-SRK also praised each other on stage as the Jai Ho star handed out the Hall of Fame award to SRK for Chennai Express and also one for Best Entertainer of the Year. When was the mutual admiration club formed again? Any idea?
Photos: Yogen Shah and Facebook